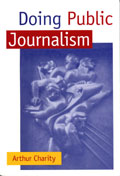 Doing Public Journalism
Charity Arthur
Publisher: The Guilford Press, New York, USA
Year Published: 1995
Pages: 188pp ISBN: 1-57230-030-2
Library of Congress Number: PN4749.C49 1995 Dewey: 302.23-dc20
Please see our media profile in
Sources
:
Sources Select Resources
Arthur Charity, former editorial writer and columnist for the Ottawa Citizen argues in Doing Public Journalism that journalists should be responsible citizens who with "the power of the press empower others besides the press".
He builds his case by using the experiences of over three dozen newspapers, a wide array of organizations outside of journalism, plus the visions of writers like Daniel Yankelovich, David Matthews and other reporters "on citizen behavior and pragmatic democracy".
The book contains solid introductions to each chapter, useful sidebars, and case studies that are boxed within the text Most sections end with a feature called "Pushing the Envelope" which proposes ways of building on past work. These useful features allow Doing Public Journalism to be used as a classroom text. (The Teacher's Guide is available free of charge).
With chapters such as "Public Listening, News Coverage, Public Judgment and Helping Citizens Act", Charity stresses the importance of attending to and comprehending citizens' concerns, honing and defining them, thus providing arenas of deliberation with the aim of facilitating essential social change.
For the budding journalist striving to write and also produce responsible work or the average citizen intending to utilize the forums that public journalism can provide this book can be a much needed guide. In Public Journalism citizens with worthwhile causes have found active and unexpected support among journalists.
The final chapter discusses public journalism as a profession and a business. There are very helpful references at the back, and in the Index there are short specialized guides which would be very helpful for both experts and scholars in fields which this book draws on for its numerous examples.
Charity succeeds in telling us that "public journalism is about making the community a better place to live".
Subject Headings