Search Sources
Searchable deep-indexed database of expert sources, media spokespersons, and news and information sources.
Sources
For Journalists, Writers, Researchers and Information Seekers
Get Sources working for you
Powerful tools to get your message out and increase your visibility.
Covid-19 Note: Sources is currently not signing up new members or subscribers.
As member you will:
Send as many news releases as you want.

Post your newsworthy events in the Sources Calendar.

Get your own search-engine-optimized media profile.

Be found under all your key topics and issues.

Achieve more impact with Sources publicity tools.
Media Names & Numbers
The comprehensive user-friendly Canadian media directory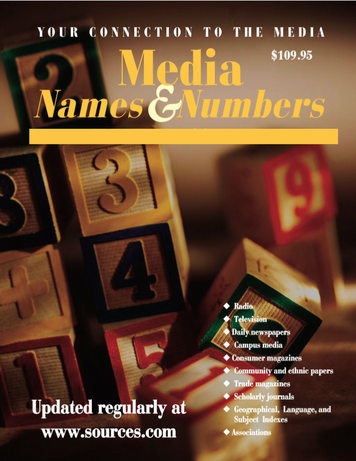 Media Names & Numbers is the one-stop directory of Canada's media, with listings for print, broadcast, and digital media.

You can access information for more than 5,000 publications and stations, with essential contact details including
Information about

circulation and audience size

and much more...