Sources Bookshelf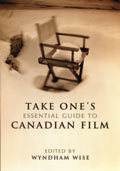 Take One's Essential Guide to Canadian Film
Wise, Wyndham (ed.)
Publisher: University of Toronto Press, Toronto, Canada
Year Published: 2001
Pages: 272pp ISBN: 0-8020-8398-6
Library of Congress Number: PN1993.5.C3T34 2001 Dewey: 791.43'0971
Please see our media profile in
Sources
:
Sources Select Resources
Finally, a who's who of Hollywood North. Put together by the publisher and editor-in-chief of Take One: Film & Television in Canada, this book is the most up-to-date reference guide to the Canadian film industry. A richly detailed accounting of both film and filmmakers, it provides over 700 reviews and biographical listings combined with a comprehensive chronology of major events in Canadian film and television history. Each film title listed includes credits, a mini review and significant awards. Biographical listings of directors, producers, actors, writers, animators, cinematographers, distributors, exhibitors and independent filmmakers include date and place of birth, a brief career overview, filmography and, if applicable, date of death. Inspired by the 1996 celebration of the one hundredth anniversary of film in Canada, this edition is a self-proclaimed work in progress. It's what Wyndham Wise considers only a start to documenting the wealth of achievements on both a national and international scale, featuring both the distinctly Canadian and what Canada has exported to Hollywood South.
[Review by Lynn Fenske]
Subject Headings
---

Sources is a directory for journalists, writers, news editors, researchers. Use Sources to find experts, media contacts, spokespersons, scientists, lobbyists, officials, speakers, university professors, researchers, newsmakers, CEOs, executive directors, media relations contacts, spokespeople, talk show guests, PR representatives, Canadian sources, story ideas, research studies, databases, universities, colleges, associations, businesses, government, research institutions, lobby groups, non-government organizations (NGOs), in Canada and internationally.
© Sources 2021. The information provided is copyright and may not be reproduced in any form or by any means (whether electronic, mechanical or photographic), or stored in an electronic retrieval system, without written permission of the publisher. The content may not be resold, republished, or redistributed. Indexing and search applications by Ulli Diemer and Chris DeFreitas.