Sources Bookshelf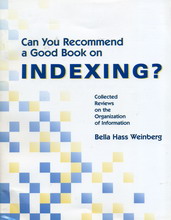 Can You Recommend a Good Book on Indexing?
Collected Reviews on the Organization of Information
Weinberg, Bella Hass
Publisher: American Society of Indexers/Information Today, USA
Year Published: 1998
Pages: 162pp ISBN: 1-57387-041-2
Library of Congress Number: Z695.9W4 Dewey: 025.3--dc21
Please see our media profile in
Sources
:
Sources Select Resources
Can You Recommend a Good Book on Indexing? Yes, I can - this one. Weinberg's in-depth reviews focus on key considerations in the organization and retrieval of organization and present crisp analyses of the strengths and weaknesses of publications in the field. Reading this book would be of more benefit to aspiring and practicing indexers than many a textbook on the topic. Just as importantly, you'd know which books on indexing, cataloguing and classification are worth consulting, and which are to be avoided.
Subject Headings
---

Sources is a directory for journalists, writers, news editors, researchers. Use Sources to find experts, media contacts, spokespersons, scientists, lobbyists, officials, speakers, university professors, researchers, newsmakers, CEOs, executive directors, media relations contacts, spokespeople, talk show guests, PR representatives, Canadian sources, story ideas, research studies, databases, universities, colleges, associations, businesses, government, research institutions, lobby groups, non-government organizations (NGOs), in Canada and internationally.
© Sources 2021. The information provided is copyright and may not be reproduced in any form or by any means (whether electronic, mechanical or photographic), or stored in an electronic retrieval system, without written permission of the publisher. The content may not be resold, republished, or redistributed. Indexing and search applications by Ulli Diemer and Chris DeFreitas.