Sources Bookshelf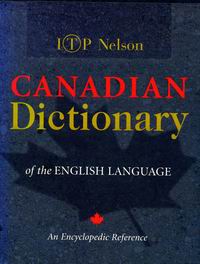 Canadian Dictionary of the English Language
Green, Susan, Executive Editor
Publisher: ITP Nelson, Scarborough, Canada
Year Published: 1997
Pages: 1694pp Price: $33.95 ISBN: 0-17-606591-1
Library of Congress Number: PE3235.177 Dewey: 423
Please see our media profile in
Sources
:
Sources Select Resources
Bitmap, Generation X, Pad Thai and Wendigo are entries you may not find in other dictionaries, but you will find them in this book. The Canadian Dictionary of the English Language contains an up-to-date listing of current spelling patterns, pronunciations, andusage notes, and is punctuated throughout with photographs, illustrations and diagrams.
---

Sources is a directory for journalists, writers, news editors, researchers. Use Sources to find experts, media contacts, spokespersons, scientists, lobbyists, officials, speakers, university professors, researchers, newsmakers, CEOs, executive directors, media relations contacts, spokespeople, talk show guests, PR representatives, Canadian sources, story ideas, research studies, databases, universities, colleges, associations, businesses, government, research institutions, lobby groups, non-government organizations (NGOs), in Canada and internationally.
© Sources 2021. The information provided is copyright and may not be reproduced in any form or by any means (whether electronic, mechanical or photographic), or stored in an electronic retrieval system, without written permission of the publisher. The content may not be resold, republished, or redistributed. Indexing and search applications by Ulli Diemer and Chris DeFreitas.