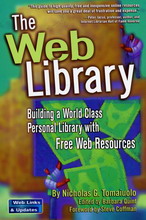 The Web Library
Building a World Class Personal Library with Free Web Resources
Tomaiuolo, Nicholas, G.
Publisher: Information Today
Year Published: 2004
Pages: 408pp Price: $44.95 ISBN: 0-910965-67-6
Please see our media profile in
Sources
:
Sources Select Resources
Nick Tomaiuolo is a college librarian in Connecticut; he is also obsessed with finding free information on the Web. I really want to like this book, but currently its Web site has all of the links, and you can download the source documents. Try library.ccsu.edu/library/tomaiuolo/theweblibrary.htm. The site also keeps the book up-to-date, for of course new resources appear all the time. Pages 361 - 383 have a printed list of all the referenced websites. For that matter, you can use my own MegaSources at www.ryerson.ca/~dtudor/megasources.html It's free too...Having said that, I think that the book is extremely useful for its coverage of magazine and journal articles (FindArticle, MagPortal, reference works, online indexes and databases (Medline, ARC, CrossArchiveSearching), books in etext, newspapers and email news alerts, broadcast archives, experts and librarians (real people), images, special collections. His URLs are annotated and he uses screen shots as illustrations. He gives additional material such as a look behind the scenes of a newspaper and broadcast news website. He has sidebars of interviews with people who created websites and reference works. He even discusses plugins and toolbars, which are needed for advanced searching. The main sources of free stuff are Project Gutenberg, universities, government agencies, associations, and commercial sites with adverts. However - and I cannot emphasize this too strongly as I was a university professor in this field - you still need to interpret what you find.
Some interesting facts: he compares some pay-per-view services for their prices. Pay-per-views can be used for FREE as the article sites allow free indexing and citations. You can save this as a file and build a bibliography, without having to read - and pay for - the articles.
What I don't like about this resource: I don't see anything about RSS, XML, and news aggregators. The book is copyrighted 2004, not earlier, so time is not an element here.
What I do like about this resource: he points out the limitations of the free services, although he does have a few disclaimers and "no liability" statements.
Quality-to-Price Ratio: for the book, 90. Unrated, if you merely use the website.
[Review by Dean Tudor]
Subject Headings