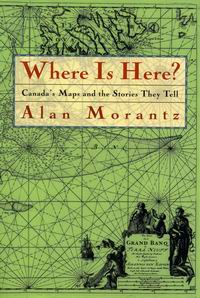 Where is Here?
Canada's Maps and the Stories They Tell
Morantz, Alan
Publisher: Penguin Canada
Year Published: 2002
Pages: 256pp Price: $35 ISBN: 0-14-301351-3
Please see our media profile in
Sources
:
Sources Select Resources
Morantz was a former editor of Equinox and is now a freelance writer. This book is a continuation of research that he did as a project for Canadian Geographic magazine's 70th anniversary issue, a special issue on mapping. Morantz tries to show how maps and the art of map-making have shaped us as Canadians and what they reveal of who we are. Maps are the sources of comfort: where are we? here! (okay, so where is here?). Canada's most enduring heroes are not revolutionaries but explorers, such as La Verendrye, David Thompson, et al. These were the guys who made the early maps. And I remember this from school in the 1950s. But teaching these themes may have been because they were safer and easier than teaching about revolution and change. Morantz begins with aborigines who charted the lands with stories, songs and stones. He then introduces an eclectic selection of Canadian maps, commenting on how the map was produced, what and whose reality did it reflect. He includes New France, missionaries, the strive for a western passage, land surveyors, census maps, road maps, "pictorial maps" of towns in book form, comparative maps, aerial maps, and orienteering maps. Place names are also covered, but just in passing.
Some interesting facts: the appendix is an interesting timeline of significant dates in Canadian surveying, mapping and charting, adapted from a 1996 book.
What I don't like about this resource: its reference value is slight
What I do like about this resource: there are illustrations of aboriginal drawings and pictographs. The book is well written; it engaged me.
Quality-to-Price Ratio: as a regular book, 88. Reference value, 81.
[Review by Dean Tudor]
Subject Headings