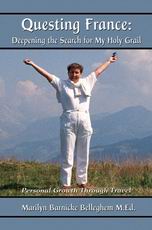 Questing France
Deepening The Search For My Holy Grail, Personal Growth Through Travel
Barnicke Belleghem, Marilyn M.Ed.
http://www.questpublishing.ca
Publisher: Quest Publishing, Burlington, Canada
Year Published: 2005
Pages: 352pp Price: $24.95 ISBN: 0-9734129-2-5
Please see our media profile in
Sources
:
Marilyn Barnicke Belleghem, M.Ed.
How do you know if your spouse is cheating?
Learn to recognize the signs of an affair.
Understand why some people return to or stay in a marriage after an affair.
Recognize ways to help children deal with parental conflict and infidelity.
Share travel adventures in Canada, California, Bahamas and France.
Discover why vacation time is the ideal time to work on a relationship.
Excellent for learning about the impact of infidelity!
Questing France is an elegant and thoughtful firsthand account of self discovery written by a Registered Marriage and Family Therapist. The reader moves through the process of confronting infidelity, marital separation and reconciliation. The story builds up to a romantic and emotionally charged finale where Marilyn and her husband celebrate twenty-five years of marriage with a luxurious trip through France. It takes readers to the Normandy coast, through the Loire Valley, into the Pyrenees Mountains, exploring Roman ruins in Provence, to the French Riviera, into the French Alps and eventually to the romantic city of Paris.
Questing France reads like a novel and has life skills woven into the story. Also available as an eBook ( eBook ISBN 0-9734129-3-3).
Read Chapters and Reviews FREE! www.questpublishing.ca
Subject Headings