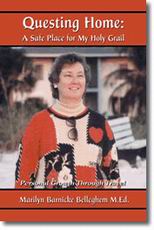 Questing Home: A Safe Place For My Holy Grail
Personal Growth Through Travel
Barnicke Belleghem, Marilyn
http://www.questpublishing.ca
Publisher: Quest Publishing, Burlington, Canada
Year Published: 2008
Pages: 490pp Price: $40 ISBN: 978-0-9734129-4-9
Please see our media profile in
Sources
:
Marilyn Barnicke Belleghem, M.Ed.
Questing Home, Marilyn's third book, illustrates how one woman uses her inner strength to stand up to marital bullying. Marilyn notices old patterns resurfacing and she soon learns that her husband's affair never ended. She is shocked to discover he only reconciled to get the upper hand in financial negations following learning about her inheritance. Legal ethics, tactics to avoid paying child and spousal support and issues of parenting children through divorce are explored. Marilyn dares to speak
her truth believing through personal growth and self awareness we can rebuild our lives and thrive.
Readers will:
Discover what personal characteristics attract bullies.
Learn ways to identify psychological and emotional abuse.
Experience the way bullies take advantage of the law.
Develop a strategy to fight bullies.
A powerfully personal journey of rebuilding a life.
Questing Home reads like a journal.
Read Chapters and Reviews FREE! www.questpublishing.ca
Subject Headings