Sources Bookshelf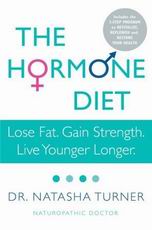 The Hormone Diet
3-Step Program to Lose Fat, Gain Strength & Live Younger Longer
Turner, Dr. Natasha
http://www.thehormonediet.com/weight-loss-plan/
Publisher: Random House, Toronto, Canada
Year Published: 2009
Pages: 466pp Price: $25.00 ISBN: 978-0-307-35648-2
Please see our media profile in
Sources
:
Dr. Natasha Turner, ND
With hormonal imbalance, the risk of conditions associated with aging - cancer, diabetes, osteoporosis or heart disease - is magnified. If our hormones are in balance, we have the potential to age gracefully and remain youthful. The complete fat-loss and preventative health guide for men and women has finally arrived. What's the secret? It's in your hormones!
Subject Headings
---

Sources is a directory for journalists, writers, news editors, researchers. Use Sources to find experts, media contacts, spokespersons, scientists, lobbyists, officials, speakers, university professors, researchers, newsmakers, CEOs, executive directors, media relations contacts, spokespeople, talk show guests, PR representatives, Canadian sources, story ideas, research studies, databases, universities, colleges, associations, businesses, government, research institutions, lobby groups, non-government organizations (NGOs), in Canada and internationally.
© Sources 2021. The information provided is copyright and may not be reproduced in any form or by any means (whether electronic, mechanical or photographic), or stored in an electronic retrieval system, without written permission of the publisher. The content may not be resold, republished, or redistributed. Indexing and search applications by Ulli Diemer and Chris DeFreitas.