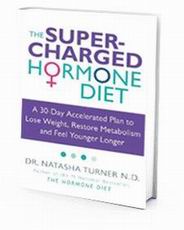 Supercharged Hormone Diet
A 30 Day Accelerated Plan to Lose Weight, Restore Metabolism and Feel Younger Longer
Turner, Dr. Natasha
http://www.thehormonediet.com/
Publisher: Random House, Toronto, Canada
Year Published: 2011
Pages: 375pp Price: $32.00 ISBN: 978-0307-35650-5
Please see our media profile in
Sources
:
Dr. Natasha Turner, ND
The Hormone Diet taught us the ins and outs of how and why our hormones play
the biggest part in our weight-loss woes - a valuable resource and diet
guide to our hormones and how they affect our health. Now, an instant
bestseller, The Supercharged Hormone Diet allows us to start losing weight
as soon as we crack open the book. In this busy, fast-paced world, we don't
always have time to research the science behind our diets. We want to lose
weight sooner and faster. Dr. Turner has created an accelerated hormone diet
that gets you results - in 30 days flat. It includes:
*An advanced hormonal health questionnaire to identify any hormonal imbalances;
*An advanced detox with higher protein for an added metabolic boost;
*A four-week meal plan with over 40+ new hormone diet-friendly recipes;
*A handy grocery shopping list with recommended brands, and much, much more.
Subject Headings