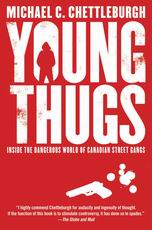 Young Thugs
Inside the Dangerous World of Canadian Street Gangs
Chettleburgh, Michael C.
Publisher: HarperCollins Canada, Canada
Year Published: 2007
Pages: 276pp Price: $19.95 ISBN: 978-0-00-215688-2
Please see our media profile in
Sources
:
Michael C. Chettleburgh - Astwood Strategy Corporation
Canadian youth gangs, shout politicians and the media, are an American export. The truth, says youth gang expert Michael C. Chettleburgh, is that Canada has been cultivating its own home-grown gang culture for years. And it's not just in Toronto, Montreal and Vancouver but also in Saskatoon, Winnipeg, Halifax and Hobbema, Alberta. It includes not only poor black kids but privileged white youth, First Nations and Southeast Asian teens in large and small communities across Canada. Why is this happening now? What is it about the gang subculture that attracts our kids? Are our police equipped to cope with the violence? And what can we do about the proliferation of gangs?
In this timely and provocative book, Michael C. Chettleburgh, who authored Canada's first-ever national study of youth gangs, answers these questions and many others, including:
• What is life really like for a gang member?
• How do gangs make money?
• What do gang members think about the glamorization of gang culture?
• How do jails breed gangs?
• Why do girls join?
• How can we keep kids out of gangs, and what do we do if our kids are in one?
In a powerful narrative driven bychilling real-life stories of gang members, victims, families and police, and anchored by rigorous research and thoughtful commentary, Chettleburgh creates both an intimate insiders' portrait and a touchstone guide that will act as a wake-up call for Canadians.
Subject Headings