Sources Bookshelf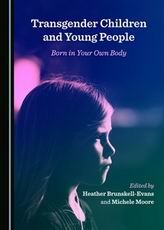 Transgender Children and Young People
Born in Your Own Body
Brunskell-Evans, Heather; Moore, Michele (eds.)
Publisher: Cambridge Scholars Publishing
Date Written: 01/01/2018
Year Published: 2018
Pages: 244pp ISBN: 978-1-5275-0398-4
This book is a collection of essays about the current theory and practice of transgendering children. Essays are written against the grain of the popularised medical definition of 'the transgender child' as a young person whose 'true' gender lies in the brain, or pre-social 'identity'. Contributors contest this diagnosis from a range of perspectives, including as social theorists, psychotherapists, persons living as transgender, individuals who have de-transitioned, and parents of adolescents identifying as transgender. They argue that medicine, social policy and the law build ideas about 'the transgender child', and contend that it is politics, not science, which accounts for the exponential rise in the number of children diagnosed as transgender by gender identity clinics. They conclude that today's medical and social trend for transgendering children is not liberal and progressive, but politically reactionary, physically and psychologically dangerous and abusive.
Subject Headings
---

Sources is a directory for journalists, writers, news editors, researchers. Use Sources to find experts, media contacts, spokespersons, scientists, lobbyists, officials, speakers, university professors, researchers, newsmakers, CEOs, executive directors, media relations contacts, spokespeople, talk show guests, PR representatives, Canadian sources, story ideas, research studies, databases, universities, colleges, associations, businesses, government, research institutions, lobby groups, non-government organizations (NGOs), in Canada and internationally.
© Sources 2021. The information provided is copyright and may not be reproduced in any form or by any means (whether electronic, mechanical or photographic), or stored in an electronic retrieval system, without written permission of the publisher. The content may not be resold, republished, or redistributed. Indexing and search applications by Ulli Diemer and Chris DeFreitas.