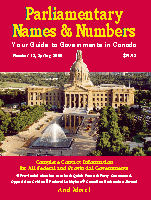 Nova Scotia election results online at Sources.com
June 10, 2009
The results of the Nova Scotia election, with all new members elected to the
Nova Scotia legislature
, are now available via
Parliamentary Names & Numbers
.
Parliamentary Names & Numbers
is the directory of Canada′s federal and provincial governments published by
Sources
.
Parliamentary Names & Numbers
is published in both print and online formats, and is also available as a mail-merge
database
.
Single-user subscriptions to
Parliamentary Names & Numbers
, which include the print directory plus online access for one user, cost $75 a year. Online access for up to 10 users costs only $160 a year, while
online access
for up to 50 users costs $479 a year.
Parliamentary Names & Numbers
gives user instant access to up-to-date contact information for
Members of Parliament
,
Senators
,
Provincial and Territorial Legislators
,
Committees
, Caucus and Critic Responsibilities,
Federal Ministries
and
Provincial and Territorial Ministries
, Canadian Embassies Abroad, and Embassies to Canada.
In just one place you′ll find all the decision makers with their contact numbers including phone, fax, E-mail addresses and World Wide Web sites. All this information is extensively cross-indexed so you find what you′re looking for, and fast.
The next print edition of
Parliamentary Names and Numbers
will be out in January 2009. The online edition is updated continuously as changes happen.
To subscribe go to
www.sources.com/Subscriptions.htm
or call 416-964-5735.
For more information contact
:
Shawn Belzner
Sources
Phone: 416-964-5735
Website:
www.sources.com/pnn
Topics: