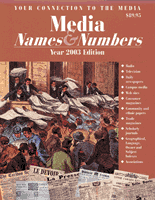 Media Names & Numbers
Published by Sources, Media Names & Numbers is a comprehensive Canadian media directory - in the form of a searchable database as well as a print directory/media list - including television and radio networks, sta...
Sources welcomes Commuto Inc.
2008-12-10
Commuto Inc.
Commuto is an online social bartering network where members trade in person with other members in their cities, schools, workplaces or any other communities they create.
OPIRG Poster Archive
Website
A website with posters produced by OPIRG-York and OPIRG Toronto from the 1980s to the present.
Media Names & Numbers
Your Connection to the Media
Serial Publication (Periodical)
2000
A comprehensive directory of the Canadian news media, including television and radio stations and programs, daily, weekly, ethnic and campus newspapers, consumer and trade magazines, and academic jour...