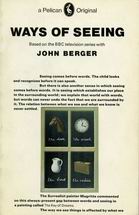 Ways of Seeing
Berger, John
Publisher: Penguin, London, United Kingdom
Year Published: 1972
Pages: 170pp ISBN: 0 14 02 1631 6
Dewey: 152.14
Please see our media profile in
Sources
:
Sources Select Resources
Ways of Seeing examines the relationship between what we know and what we see. Derived from the BBC television series of the same name with John Berger, this book examines how sight or the act of seeing comes before words or language. Thus, seeing establishes our place within the world and although we use words to describe everything language cannot undo our initial experience of the world through sight. This gap between words and sight is raised in the Surrealist painting Key of Dreams by Magritte.
According to the editors, the form of the book is as important as its content. The book consists of seven numbered essays, which can be read in any order: four essays use words and images, while the remaining three essays use only images. These three pictorial images are about the ways of seeing women and the various contradictory aspects of the tradition of oil painting. Both genres of essays are intended to raise a similar amount of questions to the reader and begin a process of questioning. The pictorial essays do not include information about the reproduced images so as to not interfere with the author's intended message with unrelated information. However, a list of information about these images is provided at the back of the book.
Specific topics which are included within the written essays include how the image is defined as a relic or text of the past with historical power that surpasses the potential of literature. The second written essay asks how a woman's presence or appearance defines her attitude about herself and in turn what can be done to her by others. This is combined with an internalized awareness that as a woman, she is constantly being viewed by spectators. Thus, this essays discusses how a woman is simultaneously a surveyor of herself due to the social rules impressed upon her sex by society: how she is viewed by others, especially men, determines her success. The third essay discusses how the analogy of possessing and the way of seeing is incorporated into oil painting. The authors track the development of the tradition of oil painting and how it influences our ways of seeing things and cultural assumptions. The fourth non-pictorial essay examines how publicity images impact us. The authors demonstrate how we as humans are static because we take in these images throughout the day, which affect us in the future.
[Abstract by Amanpreet Dhami]
Subject Headings