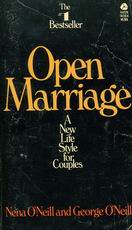 Open Marriage
A New Life Style for Couples
O'Neill, Nena & George
Publisher: Avon
Year Published: 1972
Pages: 286pp ISBN: 0-380-00271-X
-
Table of Contents
Preface and Acknowledgements
Why Save Marriage at All?
Who Has the Open Marriage?
Rewriting the Contract
Open vs. Closed Marriage - the Guidelines
Living for Now and Realistic Expectations
Privacy
Open and Honest Communication (I): Verbal and Non-verbal
Communication (II): Self-disclosure and Feedback
Communication (III): Productive Fighting and Fantasy Sharing
Role Flexibility (I): Masculine and Feminine - Which Is What?
Role Flexibility (II): Role Reversal and Role Exchange
Open Companionship
Equality
Identity
Trust
Love and Sex without Jealousy
Synergy: Couple Power through Person Power
Notes
Bibliography
Subject Headings