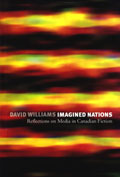 Imagined Nations
Reflections on Media in Canadian Fiction
Williams, David
Publisher: McGill-Queen's University Press, Canada
Year Published: 2003
Pages: 278pp ISBN: 0-7735-2516-5
Library of Congress Number: PS8191.M38W54 2003 Dewey: 813'.5409'355
Please see our media profile in
Sources
:
Sources Select Resources
Williams is an English professor at the University of Manitoba. He presents a basic look at the effects different forms of media have had on Canadian novels and film adaptations and cyberspace, and how these affect the sense of time and space and national identities. He examines writings and film treatments of such works as No Great Mischief, The Colony of Unrequited Dreams, Prochain Episode, The Butterfly Plague, The Englishman's Boy, The English Patient, and Necromancer. Some of these chapters were conference papers previously published in scholarly journals. There is an extensive bibliography and index, and overall, I can safely say that he has strong roots in Innis and McLuhan.
Audience or interest level: academics, libraries.
Some interesting facts: "During a decade marked by Canada's Free Trade Agreement with the United States, we could expect the national idea to be contested in novels as well as in the culture at large."
What I don't like about this resource: the reader really needs an interest in communications theory.
What I do like about this resource: applications to journalism communications.
Quality-to-Price Ratio: 84.
[Review by Dean Tudor]
Subject Headings