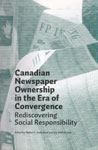 Canadian Newspaper Ownership in the Era of Convergence
Soderlund, Walter C., Hildebrandt, Kit (eds>)
Publisher: University of Alberta Press, Alberta, Canada
Year Published: 2005
Pages: 194pp Price: $34.95 ISBN: 0-88864-439-6
Library of Congress Number: PN4914.09C35 2005 Dewey: 071'.1
Please see our media profile in
Sources
:
Sources Select Resources
This is a strange book in authorship. While Soderlund and Hildebrandt are listed as editors, there is also written involvement with Walter Romanow and Ronald Wagenberg. All four did the writing, although Soderlund had a hand in every essay. All save Hildebrandt are now Professors Emeriti at University of Windsor. At one time they were active participants in the Windsor Group, and known for their discourses on newspaper coverage of federal elections, beginning in 1972. Romanow and Soderlund wrote a text 1992/1996 entitled Media Canada: an introductory analysis. In many ways, this current book expands and updates that theme, concentrating on concentration of media ownership. Parts of chapter one of this current book is based on that earlier work. By 1996, Conrad Black controlled over half of the major daily newspapers in Canada, eventually selling them all to CanWest Global Communications who immediately began exploring convergence as a business model in order to save money. Changes have been indicated by two case studies. In Part One of the book, the first case dealt with "ownership concentration" of the newspaper chains. In Part Two, the second case dealt with "convergence" which intensified concentration by consolidating different media types under one corporate umbrella. There are sections on the CanWest National Editorial Policy (two policies) and the firing of Russell Mills. The conclusion deals with ownership rights versus social responsibility. But still, newspapering is a business: the power of the press belongs to the person who owns one.
End notes are provided to supplement each chapter. Many tables are provided, on ownership, circulation, content analyses for coverage and evaluation, and the like. There is an extensive bibliography of references but for mainly newspaper articles with some books.
* Audience or interest level: journalism schools, scholars, students.
* Some interesting facts: "The past half century has clearly established the overwhelming importance of mass media ownership in the process of democratic governance, so compellingly identified in 1947 by the Commission on Freedom of the Press."
* What I don't like about this resource (its shortcomings): academic in tone.
* What I do like about this resource (its positives): reasonably up-to-date, although there is nothing on the concept of income trusts. There is a separate name index.
[Review by Dean Tudor]
Subject Headings