Sources Bookshelf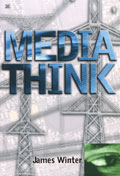 Media Think
Winter, James
Publisher: Black Rose Books, Montreal, Canada
Year Published: 2000
Pages: 183pp Price: $19.99 ISBN: 1-55164-054-6
Library of Congress Number: P91.W56 2000 Dewey: 302.23
Please see our media profile in
Sources
:
Sources Select Resources
When reading a newspaper or watching the evening news on television, are you ever annoyed by an obvious bias in the reporting? Ever amazed at what doesn't occur to the reporter? Surprised by the narrow perspectives that gain media prominence? If so, you are catching on to what media critic and Communications Professor James Winter has so aptly called "media think". According to Winter, media think is "the ideology and the means by which the media create our world view". It is Winter's contention that with the news media increasingly owned by a small group of very large corporations, the public falls prey to the "dishonesty of wealthy men on certain topics". Consequently news reporting is bias according to the class, gender, race and corporate allegiances of the media owners. In his book Media Think, Winter brilliantly illustrates his point through careful assessment of coverage of the war in Afghanistan, responses to the September 11 terrorist attacks and in media representations of women and visible minorities. Read this book and you'll think twice about the daily news - first of the content, then more importantly the context in which it is reported.
[Review by Lynn Fenske]
Table of Contents
Preface
Acknowledgments
Introduction: Some Lies to Expose
To Win Their Hearts and Minds
Feminism Did It
The Nuclear Desert
Nellie Mc Clung Rolls Over
Just Desserts
Appendix A
Index
Subject Headings
---

Sources is a directory for journalists, writers, news editors, researchers. Use Sources to find experts, media contacts, spokespersons, scientists, lobbyists, officials, speakers, university professors, researchers, newsmakers, CEOs, executive directors, media relations contacts, spokespeople, talk show guests, PR representatives, Canadian sources, story ideas, research studies, databases, universities, colleges, associations, businesses, government, research institutions, lobby groups, non-government organizations (NGOs), in Canada and internationally.
© Sources 2021. The information provided is copyright and may not be reproduced in any form or by any means (whether electronic, mechanical or photographic), or stored in an electronic retrieval system, without written permission of the publisher. The content may not be resold, republished, or redistributed. Indexing and search applications by Ulli Diemer and Chris DeFreitas.