Sources Bookshelf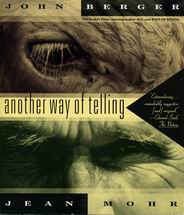 Another Way of Telling
Berger, John; Mohr, Jean
Publisher: Vintage, New York, USA
Year Published: 1995 First Published: 1982
Pages: 302pp Price: $32.00 ISBN: 0-679-73724-3
Library of Congress Number: TR183.B45 Dewey: 770'.1
Please see our media profile in
Sources
:
Sources Select Resources
Another Way of Telling, co-authored by art critic Berger and Swiss photographer Mohr, examines the lives of mountain peasants through photographs and examines several questions about photography as a practice and art form including: What is a photograph? What do photographs mean? How can they be used? And how do photographs ascribe meaning to facts? Each of the book's five parts illuminates a different aspect of photography, while balancing the moral concerns of the critic and the practice of the photographer.
In the first section Jean Mohr writes about his experiences as a photographer, especially those which illustrate the medium's ambiguity. Thus, he examines the tensions between the photographer and the photographed; the picture and its viewers and filmed moments and memories. In contrast, the second portion of the book is a theoretical essay on photography, which discusses the meaning of appearances in themselves. The third section differs from the preceding portions, such that it refrains from the use of any words. The reader/viewer is provided with a sequence of 150 photographs entitled "If Each Time" that reflect on the life of a peasant woman. The authors hope this sequence is interpreted as a work of the imagination. The subsequent portion discusses some of the theoretical implications of how the story is told to the reader in "If Each Time," while the final section returns to a brief collection of pictures that display the life of mountain peasants.
[Abstract by Amanpreet Dhami]
-
Table of Contents
Preface
Beyond my camera
Appearances
If each time …
Stories
Beginning
List of Photographs
Subject Headings
---

Sources is a directory for journalists, writers, news editors, researchers. Use Sources to find experts, media contacts, spokespersons, scientists, lobbyists, officials, speakers, university professors, researchers, newsmakers, CEOs, executive directors, media relations contacts, spokespeople, talk show guests, PR representatives, Canadian sources, story ideas, research studies, databases, universities, colleges, associations, businesses, government, research institutions, lobby groups, non-government organizations (NGOs), in Canada and internationally.
© Sources 2021. The information provided is copyright and may not be reproduced in any form or by any means (whether electronic, mechanical or photographic), or stored in an electronic retrieval system, without written permission of the publisher. The content may not be resold, republished, or redistributed. Indexing and search applications by Ulli Diemer and Chris DeFreitas.