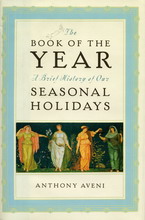 The Book of the Year
A Brief History of Seasonal Holidays
Aveni, Anthony
Publisher: Oxford University Press
Year Published: 2003
Pages: 192pp ISBN: 0-19-515024-4
Please see our media profile in
Sources
:
Sources Select Resources
Aveni, Professor of Astronomy and Anthropology at Colgate University, has crafted a readable narrative which traces the origins of our modern holidays. American modern holidays, to be precise, although some are celebrated round the world. Round the Christian world, to be precise. No harm in this, but the book needs to be more upfront about these cultural restrictions. Not even Canada is included in the "American modern holidays" listing. There are no entries for Canada in the index, and of course the gap widens when Aveni discusses Thanksgiving Day as a strictly US thing. Indeed, he characterizes Labour Day (or is that "Labor Day"?) as "exclusively American". Hel-lo!! The European equivalent is May Day, which gets a good discourse in the chapter on May. His book is chronologically arranged, by month, in narrative form. He focuses on the involvement of food (e.g., Easter eggs, turkey), games (football at Thanksgiving), rituals (New Year resolutions), characters (Santa Claus, Easter bunny), and the impact of the changing calendar through the seasons. First up is New Years Day. He traces the development of celebrating, noting that in 153 BCE the Romans declared that the New Year began when the sun came back after the winter solstice, to appear as the first crescent moon after the winter solstice. The Christians stuck to the first day of spring as a new year until 1564 in Catholic France and 1752 in Protestant England. April Fools Day developed from those "fools" who still celebrated the New Year after March 24 or so. The rest of the book goes on to deal with Groundhog's Day, St.Valentine, Easter, Halloween, Christmas, plus the two equinoxes and the two solstices and whatever else I have already mentioned. Throughout it all there are the issues of divination, calendars, astronomy, fertility, foods, rites, sex and death, all filtered through the Greco-Roman-Judaic-Christian tradition.
Some interesting facts: the Library of Congress has assigned a number of subject headings to this book, such as "Biological Rhythms", "Chronobiology", and the more apt "Archaeoastronmomy".
What I don't like about this resource: its reference value is impaired by the narrative. Still, it is a good read.
What I do like about this resource: there are bibliographic references and notes for further explorations.
Quality-to-Price Ratio: the book is useful for journalists plotting an annual daybook, looking for seasonal stories. Give it an 88.
[Review by Dean Tudor]
Subject Headings