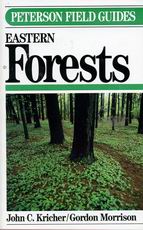 A Field Guide to Eastern Forests
Kricher, John C.; Morrison, Gordon
Publisher: Peterson Field Guides
Year Published: 1988
Pages: 368pp Price: $14.95 ISBN: 0-395-47953-3
Library of Congress Number: QH102.K75 1988 Dewey: 574.5'2642'0974
A "second-generation" field guide to the ecology of the forests and fields of eastern North America.
-
Table of Contents:
Editor's Note
Preface
Acknowledgements
1. How to Use This book
The Search for Patterns
Fields and Forests
Area Covered
General Organization
The Seasonal Approach
Getting Started
2. Forest Field Marks
Seeking patterns
Stratification
Types of Trees
Indicator Species
Species Richness
Soil Characteristics
Soil Moisture and Habitat
Evidence of Fire
Plant Population Patterns
A Forest's Age
forest Gaps
Predicting a Forest's Future
Ecotones
Old Fields
Animals of the Forest
Insects and other Arthropods
Birds
Mammals
reptiles and Amphibians
The Forest food Chain and Ecological Pyramid
Plant and Animal Identification
Getting Started - A Forest field-mark Questionnaire
3. Eastern Forest Communities
Communities of Plants and Animals
What Determines a Community?
Eastern Forest communities
Boreal Forest
Boreal Bog
jack Pine Forest
Eastern Deciduous Forest Communities
Northern hardwood forest
New England Alpine Community
beech-Maple Forest
Maple-Basswood Forest
Oak-Hickory forest
Northern Riverine (Floodplain) Forest
Northern Swamp Forest
Northern Pine-Oak Forest
Southern Mixed Pine-Oak Forest
White-cedar Swamp Forest
Mixed Appalachian Forest Communities
Appalachian Cove Forest
Appalachian Heath Balds
Southern Hardwood Forest
Southern Riverine Forest
Baldcypress Swamp Forest
Southern Mixed Hardwood Swamp Forest
Subtropical Forest
mangrove Swamp Forest
Everglades
Texas Savanna
Prairie
Northern Savanna
4. Disturbance and Pioneer Plants
What Is Disturbance?
What Causes Disturbance?
Ecological Succession: the Process of Vegetation Development Over time
Old Field Succession
Early Old Fields
Other Field Marks of Vegetation Disturbance and Change
Old Filed Succession - A Detailed Look
Shrubs Along Power Lines
Riverine Zonation
Vegetation Development Without a Soil Base
Sand Dune Zonation
Rocky Outcrops
Landscape Patches, Forest Fragmentation
Birds of Old Fields, Edges, and Forest Interior
5. Adaptation
The Woodchuck - Hibernation and Adaptation
bird Migration
Insectivorous Plants
Plant Defenses
Why Are Leaves Green?
Why isn't All Bark Alike?
Why do some Spider Webs Have Thick Zigzag Strands?
How Adaptation Occurs - Natural Selection
6. Patterns of Spring
Flower Structure and Pollination
Stream Habitats and Animals
Convergence
Amphibian Patterns
Bird Patterns
Mammals - Dispersal and Road Kills
7. Nature in Summer
Tree Geometry, Leaf Size, and Leaf Angle
Habitat and Growth Form in Plants
Patterns of Fruiting and Seed Dispersal
Milkweed Ecology
patterns of Insect or Spider Camouflage and Mimicry
Leaf Rollers, Folders, Tiers, and Miners
gall-makers
Dragonfly mating Patterns
Defense Adaptations of Snake and Other Reptiles
Patterns of Bird Nesting
8. Autumn and Winter
Soil Natural History
Fungi
Litter and Soil Animals
The Litter-Soil food Web
leaf color Changes
Anatomy of a Twig
Tree Trunks and Growth Rings
Masting
Mixed foraging Flocks
Irruptions of Bird Species
Winter Rangers of the Northern Junco
Winter Adaptations of Birds
Vole Cycles
List of Common and Scientific Names
Index
Subject Headings