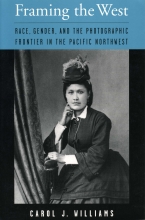 Framing the West
Race, Gender and the Photographic Frontier in the Pacific Northwest
Williams, Carol J.
Publisher: Oxford University Press, New York, USA
Year Published: 2003
Pages: 216pp ISBN: 0-19-514630-I
Library of Congress Number: TR27.N7W55 Dewey: 770`.9712`09034
Please see our media profile in
Sources
:
Sources Select Resources
Williams is a professor of women's studies and American history at the University of Lethbridge in Alberta. In this book (a great title, riffing off Farming the West), she examines a wide range of photographic forms (landscapes, portraits, action shots), and concludes that surveyors made images for the British government to map and claim ownership of the regions.
The photos also depicted Native peoples as non-threatening, and thus they (the photos) could be used in posters to encourage emigration from the UK, promoting the Canadian west as a safe haven. These are the images of the good, compliant Indian in western garb. Williams goes on to identify the camera as the influential source of imperialist ideology, the Fox News Network of the day (of course, imperialism continued with news film and documentaries. There are about 50 photos from various western archives, from just around the turn of the 19th century. Williams also gives us about 23 pages of extensive endnotes.
Audience or interest level: academics, historians, photographers (especially journalism photographers), libraries.
Some interesting facts: "The book moves beyond the conventional biographical approaches to photographers' work and the usual assumptions about the objectivity of historical photographs to develop an argument about how photographs can function as ideological documents"
What I don't like about this resource: a great commentary, but I feel it needs more photographs as examples.
What I do like about this resource: a great slice of history, makes you think.
Quality-to-Price Ratio: 92.
[Review by Dean Tudor]