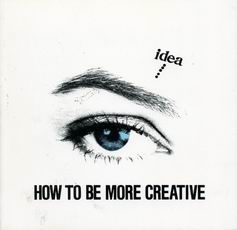 How to be more creative
Edwards, David D.
Publisher: OP, Mountain View, CA, USA
Year Published: 1996 First Published: 1979
Pages: 128pp Price: $7.95 ISBN: 0-933264-00-3
Please see our media profile in
Sources
:
Sources Select Resources
Edwards has created a guide to nourishing creativity and setting aside the inhibitions that prevent it. Creativity is something that everyone possesses and can improve on with effort. It is used in problem-solving of all kinds and in every type of occupation. The goal of this book is to point out
factors that limit creativity and provide exercises that stimulate creativity. The book teaches the reader to analyze problems from a completely different perspective, to look for as many solutions as possible, and to wait to pass judgement on all solutions. Suspending one's judgement can allow an idea to flourish into something that might not have been possible at its first conception.
The book is full of exercises for overcoming fears that limit creativity and creating ideas. The first half of the book contains three chapters on the types of things that prevent creative solutions. They are called "Are you Creative?" "Misconceptions about Creativity," and "Blocks to Creativity". The second half contains chapters called "The Creative Attitude," "How to Create Ideas," and "Aids to Creativity". One of the aids provided is a list of additional sources for further reading.
In this brief guide, Edwards teaches the reader to "think outside the box" and to "sleep on it". Every problem should be turned upside down and looked at in new and impossible ways before it can be solved, and giving the mind some time to subconsciously process the possible solutions can lead to the best one. Once all of the blocks to creativity are removed, the best way to build creative ideas is through creative processes. Some examples of creative processes, such as doodling, keeping a dream diary, and making free associations, are included in the book. According to Edwards, anyone can use these processes to become a more creative person.
[Asbtract by Mia Manns]
Table of Contents
1.Are You Creative?
2.Misconceptions About Creativity
3. Blocks to Creativity
Emotional Blocks
Perceptual or Intellectual Blocks
Cultural Blocks
4.The Creative Attitude
5. How to Create Ideas
6. Aids to Creativity
7. Notes & Bibliography
8. An Index Of Possibilities
Subject Headings