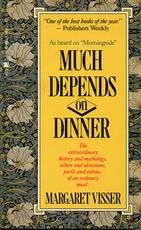 Much Depends on Dinner
The Extraordinary History and Mythology, Allure and Obsessions, Perils and Taboos, of an Ordinary Meal.
Visser, Margaret
Publisher: McClelland & Stewart, Toronto, Canada
Year Published: 1986
Pages: 424pp ISBN: 0-7710-8746-2
Library of Congress Number: GT2855.V58 1989 Dewey: 641
-
Table of Contents
What Shall We Have for Dinner?
Corn: Our Mother, Our Life
Salt: The Edible Rock
Butter- and Something "Just as Good"
Chicken: From Jungle Fowl to Patties
Rice: The Tyrant with a Soul
Lettuce: The Vicissitudes of Salad
Olive Oil: A Tree and Its Fruits
Lemon Juice: A Sour Note
Ice Cream: Cold Comfort
References
Index