Sources Bookshelf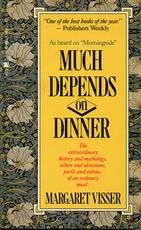 Much Depends on Dinner
The Extraordinary History and Mythology, Allure and Obsessions, Perils and Taboos, of an Ordinary Meal.
Visser, Margaret
Publisher: McClelland & Stewart, Toronto, Canada
Year Published: 1986
Pages: 424pp ISBN: 0-7710-8746-2
Library of Congress Number: GT2855.V58 1989 Dewey: 641
-
Table of Contents
What Shall We Have for Dinner?
Corn: Our Mother, Our Life
Salt: The Edible Rock
Butter- and Something "Just as Good"
Chicken: From Jungle Fowl to Patties
Rice: The Tyrant with a Soul
Lettuce: The Vicissitudes of Salad
Olive Oil: A Tree and Its Fruits
Lemon Juice: A Sour Note
Ice Cream: Cold Comfort
References
Index
---

Sources is a directory for journalists, writers, news editors, researchers. Use Sources to find experts, media contacts, spokespersons, scientists, lobbyists, officials, speakers, university professors, researchers, newsmakers, CEOs, executive directors, media relations contacts, spokespeople, talk show guests, PR representatives, Canadian sources, story ideas, research studies, databases, universities, colleges, associations, businesses, government, research institutions, lobby groups, non-government organizations (NGOs), in Canada and internationally.
© Sources 2021. The information provided is copyright and may not be reproduced in any form or by any means (whether electronic, mechanical or photographic), or stored in an electronic retrieval system, without written permission of the publisher. The content may not be resold, republished, or redistributed. Indexing and search applications by Ulli Diemer and Chris DeFreitas.