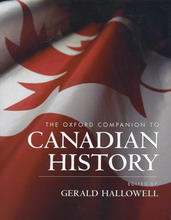 The Oxford Companion to Canadian History
Hallowell, Gerald (ed.)
Publisher: Oxford, Canada
Year Published: 2004
Pages: 748pp Price: $79.95 ISBN: 0-19-541559-0
Library of Congress Number: FC23.O94 2004 Dewey: 971'.003
Please see our media profile in
Sources
:
Sources Select Resources
Norah Story created the Oxford Companion to Canadian History and Literature, published by OUP in 1967 as a "Centennial Project". It had been updated and supplemented over the years, until the Oxford Companion to Canadian Literature appeared as a separate entity. The OCCL was last updated in 1997. This current book, the OCCH, is the first edition for a freestanding guide to Canadian history. The editor is Gerald Hallowell, former senior editor of Canadian history at University of Toronto Press, and now retired from a full-time job. He is the excellent points man with all the contacts to produce this fine, first job.
Here are the basic details of the main events, institutions, places, and people in Canada's past. The topics appear to be politics, economy, education, religion, law, medicine, science, transportation, social and cultural events (minus the literary: see the OCCL for that). It has been alphabetically arranged by headword, and the scope is Aboriginal Canada, French Canada, and the English. Obvious Canadian entries here include "residential schools". There are 527 contributors, and 1654 entries, all signed, but with very few cross-references in the headwords (e.g., "marriage see courtship and marriage"). Internal cross-references are indicated by an asterisk. No entries under "X", but "Z" has two: "zombies" (Canadians conscripted for domestic service) and "zouaves" (Canadian volunteers who defended the papacy 1865-1870).
To keep the size of the book manageable, the editor decided to have no listing of sources, not even a general bibliography.
There are several sections of lists in the end material: national anthems are listed (although you must go to the headword "national anthem" to read a history of all the changes), Prime Ministers and Premiers, Governor-Generals (mysteriously closing off Adrienne Clarkson at 2004), monarchs, plus 10 sketch maps. The book is invaluable for people outside of Canada and non-Canadians, but otherwise Internet access will get you to its main competitor The Canadian Encyclopedia (www.thecanadianencyclopedia.com) or you can even use the older CD-ROM, still important for quick data. Or, you can check the Dictionary of Canadian Biography at www.biographi.ca.
Audience or interest level: schools, libraries, the Internet-deprived.
Some interesting facts: There are only two paragraphs on Canadian jazz, by Mark Miller, with no asterisks or other cross-references within the entry.
What I don't like about this resource: there is nothing under "snow", which could be a place for an interesting discussion (there is a John Snow and snowmobile in the index).
What I do like about this resource: a first-rate book for tracking origins, in print form, with an extensive index.
[Review by Dean Tudor]
Subject Headings