Sources Bookshelf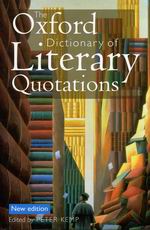 The Oxford Dictionary of Literary Quotations
Kemp, Peter
Year Published: 2003 First Published: 1997
Pages: 490pp Price: $48 ISBN: 0-19-866281-5
Please see our media profile in
Sources
:
Sources Select Resources
Peter Kemp is currently Fiction Editor of the Sunday Times and a former academic. He leads a team of seven in the sourcing and culling of literary quotes. The current edition has about 4000 quotations, all arranged by subject in one alphabetical sequence blending topics and authors, with a chronological arrangement within each subject. Over 900 additions are new. There has been a general modernizing with contemporary references to Harry Potter and to Inspector Morse. More quotes have been added from the Colonies (North America and Australia). New themes since 1997 include Solitude, Interruption, Omission, Graffiti, and Epitaphs. Cross-references are included, e.g., Mystery see Crime and Mystery; Humour and Comedy see also Irony, Wit and Satire. The source materials range from classical literature through crime novels through journalism. Themes cover the literary life, individual writers, morality, death, characters, words, ballads, science fiction. It is still an eclectic work, a book to dip into when looking for the bon mot.
Some interesting facts: most people are only in once, although Ian McEwan has 11 quotes, Milton has 24, and Shakespeare and Shaw a lot more.
What I don't like about this resource: one didn't need to be a literary type to be in here. For example, there is a quote from Marilyn Monroe on men and poetry which gives her life dates and the date the quote was made but not where it was made (diary? article? said to who? where? why?). Other quotes are equally vague.
What I do like about this resource: there is an extensive keyword index and an author index referring to page and quote number.
Quality-to-Price Ratio: 90.
[Review by Dean Tudor]
Subject Headings
---

Sources is a directory for journalists, writers, news editors, researchers. Use Sources to find experts, media contacts, spokespersons, scientists, lobbyists, officials, speakers, university professors, researchers, newsmakers, CEOs, executive directors, media relations contacts, spokespeople, talk show guests, PR representatives, Canadian sources, story ideas, research studies, databases, universities, colleges, associations, businesses, government, research institutions, lobby groups, non-government organizations (NGOs), in Canada and internationally.
© Sources 2021. The information provided is copyright and may not be reproduced in any form or by any means (whether electronic, mechanical or photographic), or stored in an electronic retrieval system, without written permission of the publisher. The content may not be resold, republished, or redistributed. Indexing and search applications by Ulli Diemer and Chris DeFreitas.