Sources Bookshelf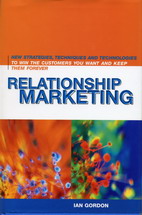 Relationship Marketing
New Strategies, Techniques and Technologies To Win Customers You Want and Keep Them Forever
Gordon, Ian
Publisher: John Wiley & Sons Canada Ltd., Toronto, Canada
Year Published: 1998
Pages: 315pp Price: $34.95 ISBN: 0-471-64173-1
Library of Congress Number: HF5415.55.G67 Dewey: 658.8
Please see our media profile in
Sources
:
The Sources HotLink
With Relationship Marketing, Ian Gordon attempts to lay down a blueprint for a way of doing business tailored to the new millennium. Emphasizing the development of reciprocal lifetime relationships with customers rather than short-term gains, Relationship Marketing responds to the increased inter-activity between supplier and purchaser brought about by the digital age. Although packed with industry jargon, Gordon's judicious use of examples, many of them Canadian, and his obvious passion for his subject make Relationship Marketing a worthwhile read.
---

Sources is a directory for journalists, writers, news editors, researchers. Use Sources to find experts, media contacts, spokespersons, scientists, lobbyists, officials, speakers, university professors, researchers, newsmakers, CEOs, executive directors, media relations contacts, spokespeople, talk show guests, PR representatives, Canadian sources, story ideas, research studies, databases, universities, colleges, associations, businesses, government, research institutions, lobby groups, non-government organizations (NGOs), in Canada and internationally.
© Sources 2021. The information provided is copyright and may not be reproduced in any form or by any means (whether electronic, mechanical or photographic), or stored in an electronic retrieval system, without written permission of the publisher. The content may not be resold, republished, or redistributed. Indexing and search applications by Ulli Diemer and Chris DeFreitas.