Sources Bookshelf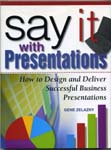 Say It with Presentations
How to Design and Deliver Successful Business Presentations
Zelazny, Gene
Publisher: Mc-Graw-Hill, New York, USA
Year Published: 1999
Pages: 154pp ISBN: 0-07-135407-7
Library of Congress Number: HF5718.22Z453 Dewey: 668.4'5
Please see our media profile in
Sources
:
The Sources HotLink
Gene Zelazny#s Say it With Presentations takes a hands-on approach to teaching effective presentation techniques. Loaded with graphics and learn by doing exercises, the program outlined in this book will leave you, if not a suave emcee, at least able to give a presentation that communicates your message and doesn#t bore your audience into submission. A particular strength of Say it With Presentations is material Gene presents on avoiding the biggest problems with presentations, both in content and form.
---

Sources is a directory for journalists, writers, news editors, researchers. Use Sources to find experts, media contacts, spokespersons, scientists, lobbyists, officials, speakers, university professors, researchers, newsmakers, CEOs, executive directors, media relations contacts, spokespeople, talk show guests, PR representatives, Canadian sources, story ideas, research studies, databases, universities, colleges, associations, businesses, government, research institutions, lobby groups, non-government organizations (NGOs), in Canada and internationally.
© Sources 2021. The information provided is copyright and may not be reproduced in any form or by any means (whether electronic, mechanical or photographic), or stored in an electronic retrieval system, without written permission of the publisher. The content may not be resold, republished, or redistributed. Indexing and search applications by Ulli Diemer and Chris DeFreitas.