Sources Bookshelf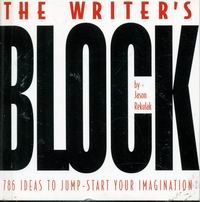 The Writer's Block
Rekukak, Jason
Publisher: Running Press, Philadelphia, USA
Year Published: 2001
ISBN: 0-7624-0948-7
Please see our media profile in
Sources
:
Sources Select Resources
Each page of The Writer's Block provides an innovative idea or means for a writer to break the familiar, yet dreadful phenomenon of writer's block. The book should be used in a similar manner to a dictionary, instead of reading it from front to back. Thus, a writer can consult the book by randomly flipping to any page when he/she finds himself pressed for an idea for their manuscript, short story, article, novel or other literary work.
The book is divided into three types of writing starters: writing challenges, spark words and writing topics. Writing challenges force the writer to write without thinking or planning. Rekulak recommends his reader/writer to go with the flow of his/her pen and revise the sentences later on. Each begins with an instruction, for example "Tell a story that begins with the discovery of a ransom note," accompanied by a photograph to further inspire visual thinkers. In contrast Spark words consist of a word paired with a photograph on the adjoining page. These words are meant to "jump-start" the writer into the writing process as each word carries different connotations for different people. Often writers find themselves writing in a completely unique direction from the idea of the original word. Writing topics lead the writer in the direction of his/her imagination through the inspirational advice of famous writers, such as Mary Higgins Clark, Toni Morrison, Hemingway and the like. Some of these topics also include optional exercises at the end.
[Abstract by Amanpreet Dhami]
Subject Headings
---

Sources is a directory for journalists, writers, news editors, researchers. Use Sources to find experts, media contacts, spokespersons, scientists, lobbyists, officials, speakers, university professors, researchers, newsmakers, CEOs, executive directors, media relations contacts, spokespeople, talk show guests, PR representatives, Canadian sources, story ideas, research studies, databases, universities, colleges, associations, businesses, government, research institutions, lobby groups, non-government organizations (NGOs), in Canada and internationally.
© Sources 2021. The information provided is copyright and may not be reproduced in any form or by any means (whether electronic, mechanical or photographic), or stored in an electronic retrieval system, without written permission of the publisher. The content may not be resold, republished, or redistributed. Indexing and search applications by Ulli Diemer and Chris DeFreitas.