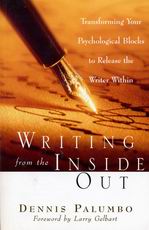 Writing from the Inside Out
Transforming Your Psychological Blocks to Release the Writer Within
Palumbo, Dennis
Publisher: John Wiley & Sons, USA
Year Published: 2000
Pages: 241pp ISBN: 0-471-38266-3
Please see our media profile in
Sources
:
Sources Select Resources
Writing from the Inside Out introduces a new way of overcoming writer's block, anxiety and procrastination. Written by a psychotherapist, the book encourages writers to use their fears, doubts and stress to construct their stories instead of trying to overcome them. Our human emotions and most basic trials are what go into a good story. Palumbo recommends using your "stuff" to tell your tale, instead of burying it.
Claiming that all writers suffer from self-doubt and anxiety, Palumbo uses a program that has gained much practice in his personal therapy sessions for writers. In Part 1: The Writing Life he explains how our personal issues can cause us to block ourselves, and only by uncovering the true
problem can we benefit from our own experiences. The subsequent sections are called You Are Enough, Grist for the Mill, The Real World, Page Fright, Hanging On, and Dispatches from the Front. While the book offers no quick-fixes or step-by-step solutions, it can help writers of all kinds to identify what is causing them stress and to use it to make their work more human. Palumbo claims that it is these factors that can add depth and meaning to a story.
[Abstract by Mia Manns]
Table of Contents
Foreword
Acknowledgements
Introduction
Part One THE WRITING LIFE
Writer's Block
Your Body
Inspiration
The Buddy System
It's Alive
Your "Precious Darlings"
Writings Begets Writing
Part Two YOU ARE ENOUGH
Simple, but Not Easy
What Really Happened
"For I Have Done Good Work"
One the Couch
"You're No John Updike!"
Part Three GRIST FOR THE MILL
Envy
Faith and Doubt
Fear
The Judge
Double-Barreled Blues
Myths, Fairy Tales, and Woody Allen
The Long View
Part Four THE REAL WORLD
The Pitch
Rejection
That Sinking Feeling
Reinventing Yourself
Deadline Dread
Three Hand Truths
Part Five PAGE FRIGHT
Gumption Traps
Procrastination
Patience
Perspective
In Praise of Goofing Off
Writing about Dogs
Going the Distance
Part Six THE REAL WORLD, PART II
Agents
Home of the Heart
The Unknown
Lately, I Don't Like Things I Love
Ageism
Part Seven HANGING ON
Commitment
News Flash: Writing Is Hard!
Burnout: A Modest Proposal
A Writer's Library
A Stillness That Characterizes Prayer
Part Eight DISPATCHES FROM THE FRONT
Phone Call from Paradise
The Idea Man
I've Come a Long Way on Paper
Loneliness
Larry: A True Story
Conclusion
Subject Headings