Sources Bookshelf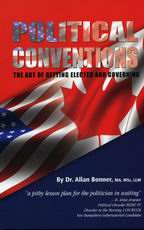 Political Conventions
The Art of Getting Elected and Governing
Bonner, Allan
Year Published: 2009
Pages: 267pp Price: $29.95
Please see our media profile in
Sources
:
Allan Bonner Communications Management Inc.
Launching January 20th 2009 for the new US President's inaugural, this book was written during the most remarkable political season in American history. The author visited all major presidential campaign offices in New York and New Hampshire, attended the presidential debates and was a commentator for PBS and Public Radio. Allan also attended the historic Democratic convention in Denver and toured most presidential libraries.
Subject Headings
---

Sources is a directory for journalists, writers, news editors, researchers. Use Sources to find experts, media contacts, spokespersons, scientists, lobbyists, officials, speakers, university professors, researchers, newsmakers, CEOs, executive directors, media relations contacts, spokespeople, talk show guests, PR representatives, Canadian sources, story ideas, research studies, databases, universities, colleges, associations, businesses, government, research institutions, lobby groups, non-government organizations (NGOs), in Canada and internationally.
© Sources 2021. The information provided is copyright and may not be reproduced in any form or by any means (whether electronic, mechanical or photographic), or stored in an electronic retrieval system, without written permission of the publisher. The content may not be resold, republished, or redistributed. Indexing and search applications by Ulli Diemer and Chris DeFreitas.