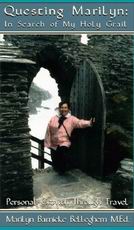 Questing Marilyn
In Search Of My Holy Grail, Personal Growth Through Travel
Barnicke Belleghem, Marilyn M.Ed.
http://www.questpublishing.ca
Publisher: Quest Publishing, Burlington, Canada
Year Published: 2003
Pages: 372pp Price: $24.95 ISBN: 0973412909
Please see our media profile in
Sources
:
Marilyn Barnicke Belleghem, M.Ed.
Questing Marilyn chronicles the experiences of author and therapist Marilyn Barnicke Belleghem M.Ed., as she tours historical and sacred sites in Britain and Ireland. It is a voyage of the inner spirit as well as a visit to Salisbury Cathedral, Stonehenge, Glastonbury, Avebury, Tintagel, Mousehole, Bath, Kilkenny, Dublin and more.
Readers will:
* discover how The Holy Grail is the spirit within,
* why vacation time is the ideal time to reflect on life's meaning,
* learn how beliefs influence life,
* discover how to explore new dimensions of the world and of your Self,
* develop a deeper relationship with your Self.
An intensely personal, thought provoking read.
Questing Marilyn reads like a novel. Also available as an eBook (eBook 0-973412917).
Read Chapters and Reviews FREE!
www.questpublishing.ca
Subject Headings