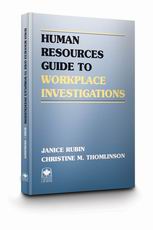 Human Resources Guide to Workplace Investigations
Rubin, Janice B.A., LL.B; Thomlinson, Christine B.A., LL.B
http://www.canadalawbook.ca
Publisher: Canada Law Book, Aurora, Canada
Year Published: 2006
Pages: 242pp Price: $79.00 ISBN: ISBN: 0-88804-443-7
Please see our media profile in
Sources
:
Rubin Thomlinson LLP
As an HR professional, in-house counsel or external counsel faced with workplace complaints and employee misconduct allegations, do you know where to turn, what to do, how to investigate and how to attempt to resolve the matter fairly and minimizeyour legal liability? Canadian employment law has developed increasingly sophisticated approaches to employee misconduct. However, very little has been written about how employers should properly make a fair determination in instances
involving alleged employee misconduct in the workplace, until now.
Get the direction you need from experienced investigators
This is the first comprehensive "how-to" manual for planning and executing a proper and fair workplace investigation. Written by leading employment lawyers, Janice Rubin and Christine Thomlinson, who have conducted countless workplace investigations themselves, Human Resources Guide to Workplace Investigations contains their expertise, insights and practical solutions in a clear and easy-to-understand style. As both a reference guide and how-to manual, this book is the definitive
resource for anyone involved in conducting a workplace investigation: HR professionals, in-house counsel or external counsel. When faced with workplace complaints and allegations of employee misconduct, this guide will enable you to conduct an
investigation that minimizes the need for further legal action, or at least limits the employer's liability if such action occurs.
Investigations discussed include:
* Just cause - such as theft, fraud, serious instances of dishonesty, conflict of interest, violence, misuse of employer's disability benefits and serious violations of the employer's policies
* Human rights complaints - alleged breaches of Human Rights legislation such as discrimination, harassment and sexual harassment
* Personal and psychological harassment - such as repeated verbal or physical behaviour affecting another employee's
psychological or physical integrity, resulting in a harmful work environment, for example bullying, gossip, name calling
* other problematic workplace conduct
Making a stressful workplace investigation a more straightforward process
Human Resources Guide to Workplace Investigations breaks down the process of the investigation into manageable pieces. It provides you with a detailed step-by-step roadmap for conducting a fair and thorough workplace investigation that will give each party the opportunity to participate and enable the employer to decide what to do with the employee(s) in question.
This resource will help you identify:
* the need for an investigation
* the circumstances in which investigations are necessary
* the type of harassment
* the process
* the evidence...and report the findings.
Contains helpful tools for conducting an investigation:
* detailed checklists for the reader to follow
* case summaries which provide the reader with a quick reference to court cases involving workplace investigations
* precedent letters and sample policies which can be used before or during the course of the investigation
Get around the roadblocks during the investigative process
Not only does this practical guide show you how to investigate workplace complaints and allegations of employee misconduct, it also discusses potential pitfalls and investigative issues you may encounter along the way. The authors give you sound
suggestions and practical advice to deal with issues such as: the inexperienced investigator, promises of confidentiality, missing or uncooperative parties#and more!
Human Resources Guide to Workplace Investigations.
Table of Contents:
Foreword
Introduction How We Came to This Work
Chapter 1 What is a Workplace Investigation and Why Conduct One?
Chapter 2 What Type of Investigation Should Be Done?
Chapter 3 Before You Get Started
Chapter 4 Process Set-Up
Chapter 5 Collection of Evidence
Chapter 6 Decision-Making and Reporting
Chapter 7 Non-Harassment Type Investigations
Chapter 8 Potential Pitfalls and Investigation Problems
Chapter 9 The Case for Policies and Training
To order a copy call:
(800) 263-2037 or (800) 263-3269 or (905) 841-6472
Write to Canada Law Book, 240 Edward Street, Aurora, Ontario L4G 3S9
Web: www.canadalawbook.ca
Subject Headings