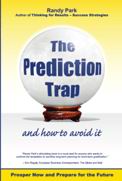 The Prediction Trap - and how to avoid it
Park, Randy
http://www.thinkingforresults.com/prod.htm
Publisher: Aronyd Publishing, Toronto, Canada
Year Published: 2008
Pages: 200pp Price: $22.95 ISBN: ISBN: 978-0-9733926-1-6
Library of Congress Number: BF441.P36 2008 Dewey: 153.8'3
Please see our media profile in
Sources
:
Randy Park, Author and Speaker -- "Decision Advancement"
This book addresses the premiere issue of today # how to handle an uncertain future
How do you prepare for the future? Every day you make choices that affect your results and your life in both the immediate and the distant future. This book helps you examine both the information and the process you use in those decisions. The common approach to predicting the future is based on one simple assumption: what happened yesterday will happen tomorrow. While this approach is natural and useful - much of the time it does work - many important issues cannot be predicted by extrapolation.
The Prediction Trap explains why humans base so much of their thinking on the past - but a selective past. It details how to most effectively bring others into your thinking - especially people who don't think like you. It provides a practical approach for analysing and preparing for the future. And it outlines four major problems facing Western society - problems that you can't afford to ignore, either personally or professionally.
Eric Reguly , European Business Correspondent, The Globe and Mail says "In government, the future ends with the next election; in business, with the next quarter. Randy Park's stimulating book is a must-read for anyone who wants to fight the temptation to sacrifice long-term planning for short-term gratification."
Dr. Gail Krantzberg, Director, Centre for Engineering and Public Policy, McMaster University, says #I found the Prediction Trap to be highly insightful, and innovative with practical application to resolve contemporary recalcitrant societal issues. A fine read for those who are determined to lead with excellence.#
Randy Park, B.Sc., M.Eng., is an expert in the practical aspects of how people think and make decisions. His dynamic keynote speeches, workshops, articles, e-newsletters and media interviews help people to think more strategically and consider the consequences of their decisions.
Subject Headings