Sources Bookshelf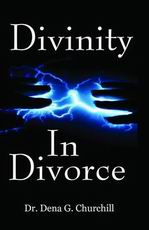 Divinity In Divorce
The Power in Gratitude and Love
Churchill, Dena
http://www.internationalhealthpublishing.com/index.php?option=com_booklibrary&task=view&id=2&catid=2&Itemid=2
Publisher: International Health Publishing, Texas, USA
Year Published: 2009
Pages: 72pp Price: $11.00 USD ISBN: 978-0-9818353-4-1
Please see our media profile in
Sources
:
Dr. Dena Churchill
This book awakens the spirit of not only those who are going through or have already gone through a divorce, but anyone who has ever had an intimate relationship with another person. It is about reaching new levels of consciousness and recognizing the perfection within each moment. For everything is perfect the way it is, as it is. This is a practical and inspirational guide through a divorce: a transformation of a marriage-relationship into another form. It illustrates that as part of a natural rhythmic cycle, the energy between two people - opposites perhaps - is simultaneously attracting and repelling. This is a part of a greater construct - our universe, with its laws and principles. You'll learn ways of tapping into your infinite divine power, innate wisdom, and explore universal intelligence with the purpose of expanding your heart and mind to be delivered into an empowering state of love and gratitude. Every person possesses an individualized set of values and priorities that dictate everyday behaviour. Thoughts, feelings, and actions are all influenced by what is held dear in value. Judgment is expecting another to fit into your ideals. Explore how and why everything in your life, even a divorce is perfect as it is, and presents opportunity for learning. Join me in my journey, and let this book guide you through yours as you discover the Divinity In Divorce.
Subject Headings
---

Sources is a directory for journalists, writers, news editors, researchers. Use Sources to find experts, media contacts, spokespersons, scientists, lobbyists, officials, speakers, university professors, researchers, newsmakers, CEOs, executive directors, media relations contacts, spokespeople, talk show guests, PR representatives, Canadian sources, story ideas, research studies, databases, universities, colleges, associations, businesses, government, research institutions, lobby groups, non-government organizations (NGOs), in Canada and internationally.
© Sources 2021. The information provided is copyright and may not be reproduced in any form or by any means (whether electronic, mechanical or photographic), or stored in an electronic retrieval system, without written permission of the publisher. The content may not be resold, republished, or redistributed. Indexing and search applications by Ulli Diemer and Chris DeFreitas.