Sources Bookshelf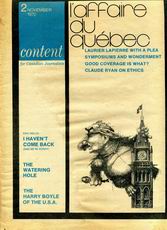 Content Magazine - Number 2
November 1970
Publisher: Content Magazine, Toronto, Canada
Date Written: 01/11/1970
Year Published: 1970
Table of Contents:
L'AFFAIRE DU QUEBEC: Reactions to the FLQ Crisis
Robert Stewart comments on the coverage
An interview with Claude Ryan on the role of Le Devoir
Dick MacDonald on censorship: reviews two symposiums for journalists held shortly after the imposition of the War Measures Act
The view from outside Montreal
A Plea from Laurier LaPierre
Also, Sarah Riddel on the FCC (USA); Wayne Clark on Electronic Journalism
Subject Headings
---

Sources is a directory for journalists, writers, news editors, researchers. Use Sources to find experts, media contacts, spokespersons, scientists, lobbyists, officials, speakers, university professors, researchers, newsmakers, CEOs, executive directors, media relations contacts, spokespeople, talk show guests, PR representatives, Canadian sources, story ideas, research studies, databases, universities, colleges, associations, businesses, government, research institutions, lobby groups, non-government organizations (NGOs), in Canada and internationally.
© Sources 2021. The information provided is copyright and may not be reproduced in any form or by any means (whether electronic, mechanical or photographic), or stored in an electronic retrieval system, without written permission of the publisher. The content may not be resold, republished, or redistributed. Indexing and search applications by Ulli Diemer and Chris DeFreitas.