Sources Bookshelf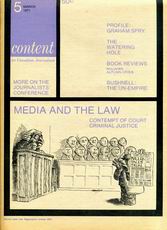 Content Magazine - Number 5
March 1971
Publisher: Content Magazine, Toronto, Canada
Date Written: 01/03/1971
Year Published: 1971
Table of Contents:
Media and the law: Contempt of court criminal justice
Progile: Graham spry
The watering hole
Book reviews: McLuhan Autumn crisis
Bushnell: The un-empire
More on the Jouranlists' conference
Misecellany: recycling newspapers, frenh-language regional awards, NWT Communications improving
Ted Schrader lists journalistic errors which have brought contempt proceedings
Brian Grossman advises digging into the criminal justice system to expose abuse of process and police malpractise
Also:
Feature article on Graham Spry
Subject Headings
---

Sources is a directory for journalists, writers, news editors, researchers. Use Sources to find experts, media contacts, spokespersons, scientists, lobbyists, officials, speakers, university professors, researchers, newsmakers, CEOs, executive directors, media relations contacts, spokespeople, talk show guests, PR representatives, Canadian sources, story ideas, research studies, databases, universities, colleges, associations, businesses, government, research institutions, lobby groups, non-government organizations (NGOs), in Canada and internationally.
© Sources 2021. The information provided is copyright and may not be reproduced in any form or by any means (whether electronic, mechanical or photographic), or stored in an electronic retrieval system, without written permission of the publisher. The content may not be resold, republished, or redistributed. Indexing and search applications by Ulli Diemer and Chris DeFreitas.