Sources Bookshelf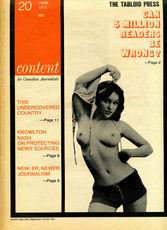 Content Magazine - Number 20
June 1972
Date Written: 01/06/1972
Year Published: 1972
Table of Conents:
Fabircation Factories: An in-depth look at the tabloid press
New, er, [sic]. Newer Journalism
A little Derring-Do, Report on the Canadian Managing Editors' Conference
A precedent is a precedent by any other name: ethics and the publc's right to know
The unknown country: Why Canada is under-reporting in other countries
Exactly what do the readers want: Statistics of how people obrtain infromation via press, TV and radio
The Watering Hole: The birth and death of the Prince Geogre Press club
Subject Headings
---

Sources is a directory for journalists, writers, news editors, researchers. Use Sources to find experts, media contacts, spokespersons, scientists, lobbyists, officials, speakers, university professors, researchers, newsmakers, CEOs, executive directors, media relations contacts, spokespeople, talk show guests, PR representatives, Canadian sources, story ideas, research studies, databases, universities, colleges, associations, businesses, government, research institutions, lobby groups, non-government organizations (NGOs), in Canada and internationally.
© Sources 2021. The information provided is copyright and may not be reproduced in any form or by any means (whether electronic, mechanical or photographic), or stored in an electronic retrieval system, without written permission of the publisher. The content may not be resold, republished, or redistributed. Indexing and search applications by Ulli Diemer and Chris DeFreitas.