Sources Bookshelf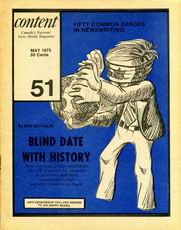 Content Magazine - Number 51
May 1975
http://www.sources.com/SSR/Content/Content51.html
Date Written: 01/05/1975
Year Published: 1975
Table of Contents:
Fifty Common Errors in Newswritting
Blind Date with History
Anti-censorship Dollars Needed to Aid Gerry Mcneil
National Newspaper Award Winners
Reporter Battles Maritimes Censors Starts Fund to Pay Legal Expenses
Problems of Pre-trial Publication: From touchy to tragic
Omnium-Gatherum/Letters/Obituaries
Subject Headings
---

Sources is a directory for journalists, writers, news editors, researchers. Use Sources to find experts, media contacts, spokespersons, scientists, lobbyists, officials, speakers, university professors, researchers, newsmakers, CEOs, executive directors, media relations contacts, spokespeople, talk show guests, PR representatives, Canadian sources, story ideas, research studies, databases, universities, colleges, associations, businesses, government, research institutions, lobby groups, non-government organizations (NGOs), in Canada and internationally.
© Sources 2021. The information provided is copyright and may not be reproduced in any form or by any means (whether electronic, mechanical or photographic), or stored in an electronic retrieval system, without written permission of the publisher. The content may not be resold, republished, or redistributed. Indexing and search applications by Ulli Diemer and Chris DeFreitas.