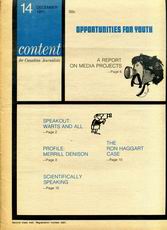 Content Magazine - Number 14
December 1971
Date Written: 01/12/1971
Year Published: 1971
Table of Contents:
TV News and the Emperoro's Clothes: Discrimination against TV
The Man of Bon Echo: Profile of Merrill Denison, playwright, bradcaster and historia
Opportunity can be a five-letter word - Media Opportunities for Youth
The Haggart Case: A semantical affair by Marc Zwelling. Toronto Star's refusal to hire Ron Haggart
How Not to Err, That is the point by C.W. WIlson and F.K. Bambrick. Results of research on freedom of the press.
Media 72: Report No. 3
The watering hole: Dining out, discriminaiton style in Halifax
For the Sake of science writing. Canadian Science Writers' Association seminar