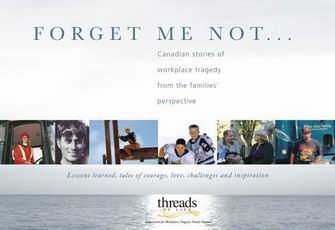 Forget Me Not
Canadian Stories of Workplace Tragedy from the Families' Perspective
http://www.threadsoflife.ca
Publisher: The Association for Workplace Tragedy Family Support , London, Canada
Year Published: 2011
Pages: 133pp Price: $19.99
Please see our media profile in
Sources
:
Threads of Life
Forget Me Not is the first book ever published about families who have experienced a workplace tragedy (fatalities, life-altering injuries or occupational disease).
Why now?
On average, more than 1,000 Canadian workers die on the job each year (according to work-related fatality statistics published by Association of Workers' Compensation Boards of Canada). In addition, more than 260,000 others are injured at work. And behind every cold, hard, statistic is a family left to pick up the pieces.
Readers will:
· Hear lessons learned by survivors, tales of personal challenges, courage and inspiration
· Witness the honest, compelling testimony of workers and family members affected by workplace burns, crushing, contact with machinery, drowning, exposure to toxic substances, electrical contact, falls, motor vehicle incidents, trench collapse (suffocation), elevator fall and explosions.
· Learn facts about health and safety hazards across multiple workplace sectors, including construction, industrial workplaces, fisheries, agriculture, and forestry, through informative sidebars
· Develop a deeper understanding of the personal experience of grief, court proceedings, impact statements, drug addiction to pain killers, and other challenges common to families dealt a workplace tragedy
This is the first fundraising item produced by Threads of Life. All proceeds go directly to Threads of Life support programs and services for families of workplace tragedy.
Format
· 21 chapters
· soft-cover book, easy-to-read, first-hand honest and compelling testimony about family life in the aftermath of a workplace tragedy
· dimensions: 8.5" x 5.5" (horizontal); fits into brief cases and purses; lays flat and can stay open
Publisher: The Association for Workplace Tragedy Family Support (known as Threads of life), a national registered charity dedicated to supporting families along their journey of healing who have suffered from a workplace fatality, life-altering illness or occupational disease. Charitable organization bus #87524 8908 RR0001.
Available for purchase at: www.threadsoflife.ca
Cost is $19.99 + shipping & handling; no taxes, as the book is being sold as a fundraising item.
Subject Headings