Sources Bookshelf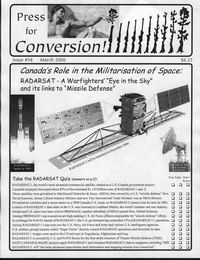 Press for Conversion #58
March 2006
http://coat.ncf.ca/our_magazine/links/58/58.html
Publisher: Coalition to Oppose the Arms Trade
Date Written: 01/03/2006
Year Published: 2006
Please see our media profile in
Sources
:
Coalition to Oppose the Arms Trade
RADARSAT, is probably Canada's single-most important technological contribution to the militarisation of space and U.S. warfighting. It cost Canadian taxpayers about $1 billion to produce the world's most advanced commercial satellite system. U.S. military and intelligence agencies are among its top users. In exchange for launching RADARSAT-1 in 1995, the U.S. government directly controls 15% of its observation time and has used it in Intelligence, Surveillance and Reconnaissance during the wars against Yugoslavia, Afghanistan and Iraq. When the Liberal government privatised RADARSAT--giving it to Vancouver's MacDonald Dettwiler and Assoc.--this firm was wholly owned by a U.S. war industry that builds "missile defense" rockets. (MP David Emerson was on MDA's Board of Directors.) U.S. and NATO warfighters used war games to practise using RADARSAT-2, particularly in its most coveted role: the tracking and targeting of moving, ground vehicles. The exploitation of this data was developed by Canada's Department of National Defence in collaboration with the Ballistic Missile Defence Organization. Together they developed plans to use RADARSAT-2 data in the first-strike attacks of "Theatre Missile Defense" operations. The idea of this "missile defense" is not to protect the homeland but to defend missiles, troops and warships deployed to distant war zones.
Subject Headings
---

Sources is a directory for journalists, writers, news editors, researchers. Use Sources to find experts, media contacts, spokespersons, scientists, lobbyists, officials, speakers, university professors, researchers, newsmakers, CEOs, executive directors, media relations contacts, spokespeople, talk show guests, PR representatives, Canadian sources, story ideas, research studies, databases, universities, colleges, associations, businesses, government, research institutions, lobby groups, non-government organizations (NGOs), in Canada and internationally.
© Sources 2021. The information provided is copyright and may not be reproduced in any form or by any means (whether electronic, mechanical or photographic), or stored in an electronic retrieval system, without written permission of the publisher. The content may not be resold, republished, or redistributed. Indexing and search applications by Ulli Diemer and Chris DeFreitas.