Sources Bookshelf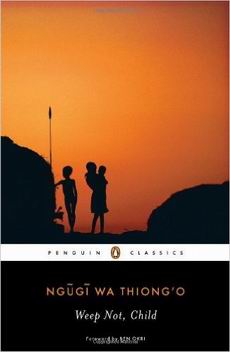 Weep Not Child
Ngugi wa Thiong'o
Publisher: Heinemann, London
Year Published: 1964
The great Kenyan writer's powerful first novel. Two brothers, Njoroge and Kamau, stand on a garbage heap and look into their futures: Njoroge is to attend school, while Kamau will train to be a carpenter. But this is Kenya, and the times are against them: In the forests, the Mau Mau is waging war against the white government, and the two brothers and their family need to decide where their loyalties lie. For the practical Kamau, the choice is simple, but for Njoroge the scholar, the dream of progress through learning is a hard one to give up. Weep Not, Child is a moving novel about the effects of the Mau Mau uprising on the lives of ordinary men and women, and on one family in particular.
Subject Headings
---

Sources is a directory for journalists, writers, news editors, researchers. Use Sources to find experts, media contacts, spokespersons, scientists, lobbyists, officials, speakers, university professors, researchers, newsmakers, CEOs, executive directors, media relations contacts, spokespeople, talk show guests, PR representatives, Canadian sources, story ideas, research studies, databases, universities, colleges, associations, businesses, government, research institutions, lobby groups, non-government organizations (NGOs), in Canada and internationally.
© Sources 2021. The information provided is copyright and may not be reproduced in any form or by any means (whether electronic, mechanical or photographic), or stored in an electronic retrieval system, without written permission of the publisher. The content may not be resold, republished, or redistributed. Indexing and search applications by Ulli Diemer and Chris DeFreitas.