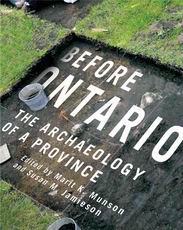 Before Ontario
The Archaetology of Province
Munson, Marit K. ; Jamieson, Susan M.
Publisher: McGill-Queen's University Press, Canada
Year Published: 2013
Pages: 262pp Price: $39.95 ISBN: 9780773542082
A lively and accessible introduction to Ontario's Aboriginal past, from the province's leading archaeologists.
Before Ontario there was ice. As the last ice age came to an end, land began to emerge from the melting glaciers. With time, plants and animals moved into the new landscape and people followed. For almost 15,000 years, the land that is now Ontario has provided a home for their descendants: hundreds of generations of First Peoples.
[From the Publisher]
Table of Contents
Figures
Sidebars
Acknowledgments
Introduction: Seeing Ontario's Past Archaeologically
Neal Ferris
Part I A Land before Ontario
1 Water and Land
Andrew M. Stewart
2 Before Pottery: Paleoindian and Archaic Hunter-Gatherers
Christopher J. Ellis
3 The Woodland Period, 900 bce to 1700 ce
Ronald F. Williamson
4 The Aboriginal Population of Ontario in Late Prehistory
Gary Warrick
5 A World Apart? Ontario's Canadian Shield
Scott Hamilton
Part II Telling Archaeological Stories
6 Place, Space, and Dwelling in the Late Woodland
Neal Ferris
7 Animals and Archaeologists
Suzanne Needs-Howarth
8 Plants and the Archaeology of the Invisible
Stephen G. Monckton
9 Stories in Stone and Metal
William Fox
10 Pots and Pipes: Artifacts Made from Clay
Mima Kapches
11 The Living Landscape
Cath Oberholtzer
12 Social and Political Lives
Susan M. Jamieson
13 Skeletal Evidence of Health and Disease among Iroquoians
Anne Keenleyside
14 Death and Burial in Woodland Times
Michael W. Spence
Part III The Last (But Not Final) Word
15 An Aboriginal Perspective
Kris Nahrgang
References
Index