Sources Bookshelf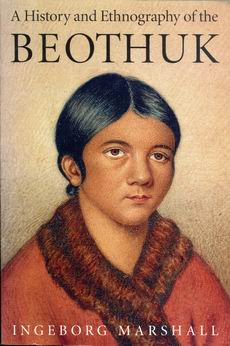 A History and Ethnography of the Beothuk
Marshall, Ingeborg
Publisher: McGill-Queen's University Press
Year Published: 1998 First Published: 1996
Pages: 640pp ISBN: 978-0-7735-1774-5
Library of Congress Number: E99.B4M37 1996 Dewey: 971.8'004979
The Beothuk, the aboriginal inhabitants of Newfoundland, were hunters, gatherers, and fishers who moved seasonally between the coast and the interior. With the influx of European settlements and fisheries in the 1700s the Beothuk found their territory increasingly reduced and conflict between the two groups escalated. The Beothuk declined steadily in numbers and by the early 1800s they had ceased to exist as a viable cultural group.
Subject Headings
---

Sources is a directory for journalists, writers, news editors, researchers. Use Sources to find experts, media contacts, spokespersons, scientists, lobbyists, officials, speakers, university professors, researchers, newsmakers, CEOs, executive directors, media relations contacts, spokespeople, talk show guests, PR representatives, Canadian sources, story ideas, research studies, databases, universities, colleges, associations, businesses, government, research institutions, lobby groups, non-government organizations (NGOs), in Canada and internationally.
© Sources 2021. The information provided is copyright and may not be reproduced in any form or by any means (whether electronic, mechanical or photographic), or stored in an electronic retrieval system, without written permission of the publisher. The content may not be resold, republished, or redistributed. Indexing and search applications by Ulli Diemer and Chris DeFreitas.