Sources Bookshelf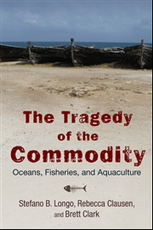 The Tragedy of the Commodity
Oceans, Fisheries, and Aquaculture
Longo, Stefano B; Claussen, Rebecca; Clark, Brett
Publisher: Rutgers University Press
Date Written: 02/06/2015
Year Published: 2015
Pages: 274pp Price: $90.00 ISBN: 978-0-8135-6578-1
Although humans have long depended on oceans and aquatic ecosystems for sustenance and trade, only recently has human influence on these resources dramatically increased, transforming and undermining oceanic environments throughout the world. Marine ecosystems are in a crisis that is global in scope, rapid in pace, and colossal in scale. Longo, Clausen, and Clark explore the role human influence plays in this crisis, highlighting the social and economic forces that are at the heart of this looming ecological problem.
Subject Headings
---

Sources is a directory for journalists, writers, news editors, researchers. Use Sources to find experts, media contacts, spokespersons, scientists, lobbyists, officials, speakers, university professors, researchers, newsmakers, CEOs, executive directors, media relations contacts, spokespeople, talk show guests, PR representatives, Canadian sources, story ideas, research studies, databases, universities, colleges, associations, businesses, government, research institutions, lobby groups, non-government organizations (NGOs), in Canada and internationally.
© Sources 2021. The information provided is copyright and may not be reproduced in any form or by any means (whether electronic, mechanical or photographic), or stored in an electronic retrieval system, without written permission of the publisher. The content may not be resold, republished, or redistributed. Indexing and search applications by Ulli Diemer and Chris DeFreitas.