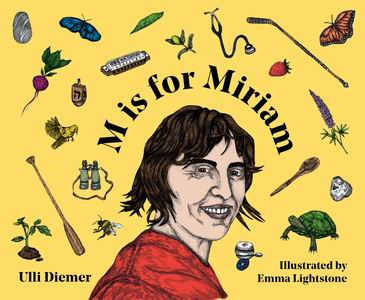 M is for Miriam
Diemer, Ulli.
Illustrated by Emma Lightstone.
Publisher: Alphabet Publishing, Toronto, Canada
Year Published: 2020 Pages: 32pp Price: $20
Identifiers: Canadiana 20190236663 - ISBN: 9781927470077
Subjects: LCSH: English language - Alphabet - Juvenile literature - LCSH Alphabet books. - LCSH: Garfinkle, Miriam, 1954-2018.
Classification: LCC PE1155.D54 2020 - DDC j421--dc23
An illustrated children's alphabet book about Canadian physician and activist
Miriam Garfinkle
.
Each page is devoted to some page of her life: C is for Community, D is for Doctor, G is for Garden, L is for Laughter, N is for Nature, P is for Piano, Q is for Questions, S is for Solidarity, W is for Waffles....
Sample text - C page:
C is for Community
Community means people
Caring about each other
Helping each other
Talking together
Doing things together
Sharing with each other
Sticking up for each other
Miriam was part of her communities
Where she lived
Where she worked
And side by side with people
wherever she could help.
She cared.
She helped.
She listened.
She talked.
And she was fun to be with.
Sample text - Q page:
Q is for Questions
Miriam asked lots of questions.
Because that 's how you learn about people
And that 's how you understand things
It 's good to ask questions.
Sometimes you get answers.
Sometimes you get more questions.
That's good too.
There are always more questions than answers.
Good questions are better than thoughtless answers.
Why is that?
Subject Headings