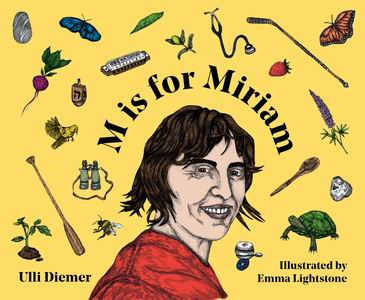 M is for Miriam
Diemer, Ulli (author); Lightstone, Emma (illustrator)
http://www.sources.com/Bookshelf/SB54093.htm
Publisher: Alphabet Publishing, Toronto
Year Published: 2020
Pages: 32pp Price: $20 ISBN: 9781927470077
Library of Congress Number: PE1155 .D54 2020 Dewey: j421/.1-dc23
An illustrated children's book about the Canadian physician and activist Miriam Garfinkle. Each page is devoted to some page of her life: C is for Community, D is for Doctor, G is for Garden, L is for Laughter, N is for Nature, P is for Piano, Q is for Questions, S is for Solidarity, W is for Waffles....
Identifiers: Canadiana 20190236663 - ISBN: 9781927470077
Subjects: LCSH: English language - Alphabet - Juvenile literature - LCSH Alphabet books. - LCSH: Garfinkle, Miriam, 1954-2018.
Classification: LCC PE1155.D54 2020 - DDC j421--dc23
Subject Headings:
Bicycles
Birds
Butterflies
Canoeing
Children
Community
Dancing
Education
Environment
Friends
Gardens/Gardening
Garfinkle, Miriam
Health
Hockey
Hope
Human Rights
Indigenous Peoples
Jewish Community
Joy
Love
Music
Nature
Occupy Movement
Olive Oil
Physicians
Piano
Questions
Rocks
Sharing
Social Change
Social Justice
Solidarity
Trees
Turtles
Vegetables
Women
Work
Subject Headings