VOW 2021 Mother's Day Peace Awards
May 8th, 2021, at 7pm-8:30pm ET
Release date: May 4, 2021
Mother's Day is a very special day but it was not always about lavish dinners and flowers; it was a call to action by Julia Ward Howe in 1870 to "Disarm! Disarm!" calling for a Mother's Peace Day to eradicate war. It was later taken up by Anna Jarvis to have it recognized in the United States nationally in 1914. We at VOW wish to revitalize the idea of a Mother's Peace Day and are awarding outstanding women in the areas of peace special recognition for their hard work. Read Julia Ward Howe's full call to action below the flyer and awards info.
Register here at bit.ly/VOW-Awards.
Contact: Lyn Adamson, Co-Chair 416-731-6605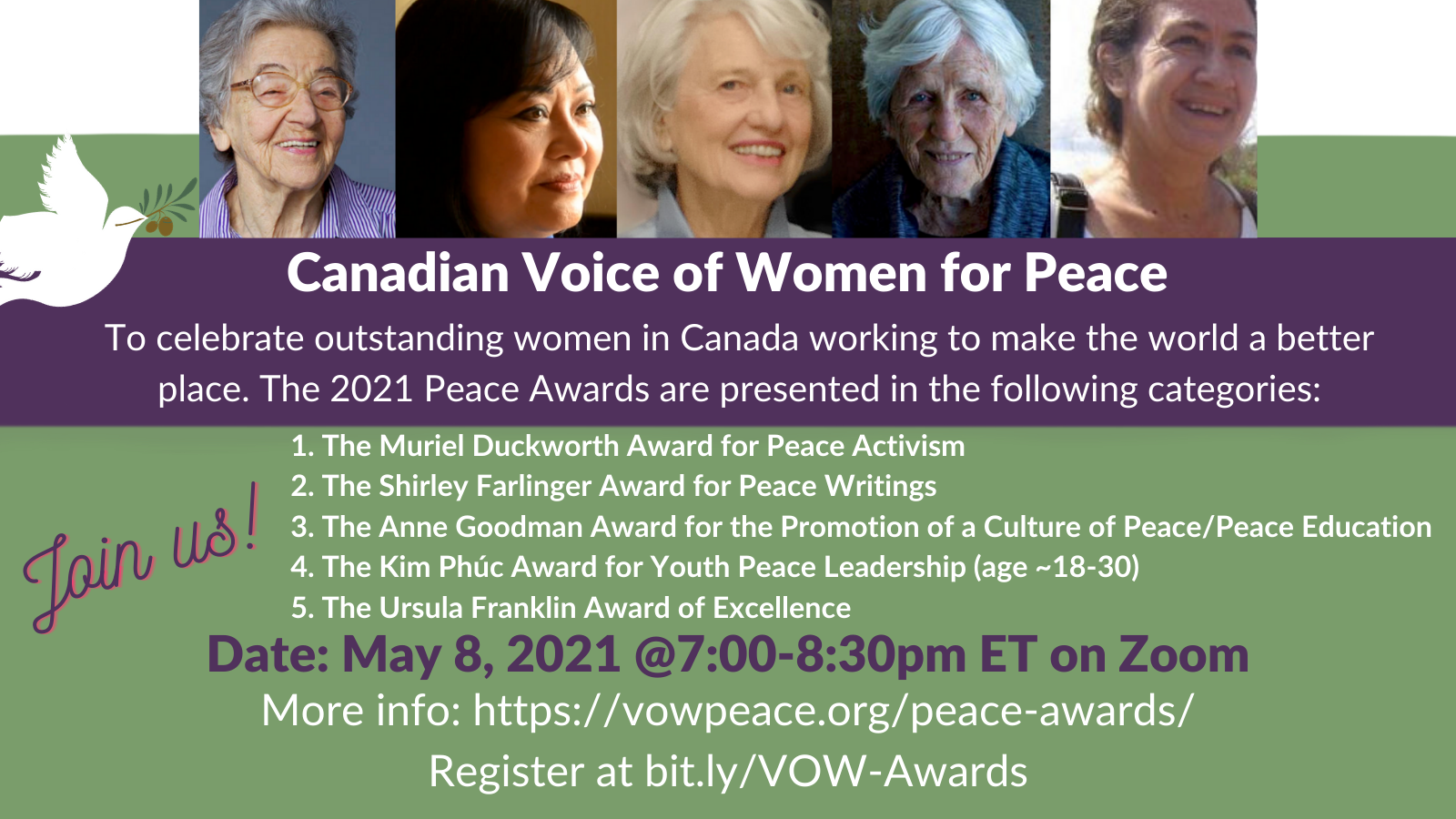 The awards are being given to outstanding peace activists and are as follows
The Muriel Duckworth Award 2020 – Dale Dewar 2021 – Tshaukuesh Penashue
The Shirley Farlinger Award 2020 – Erin Hunt 2021 – Neha Vashist
The Anne Goodman Award 2020 – Julia Morton-Marr 2021 – Georgina Galanis
The Kim Phuc Award 2020 – Nikou Salamat 2021 – Katie Gingerich
The Ursula Franklin Award 2020 – Debbie Grisdale
2021- Jill Carr-Harris
The Canadian Voice of Women for Peace launched the Peace Awards in 2014 from the inspiration of outstanding contributions for a more peace-filled world made by each of the women for whom the Awards are named.
1. The Muriel Duckworth Award for Peace Activism
Muriel Duckworth lived a life of peace activism. Muriel was a founder of the Nova Scotia Voice of Women for Peace in 1962, and the President of National VOW from 1967 to 1971; she remained an active member of VOW for the rest of her life. The main peace issue during her Presidency was VOW's opposition to the Vietnam War. In keeping with VOW's objective of making connections with women in countries that are deemed 'the enemy', Muriel helped arrange for two delegations of Vietnamese women to visit Canada. She organized and attended international conferences on behalf of VOW, and she researched, organized, demonstrated, and spoke out not only on peace, disarmament, and the nuclear threat, but also on racism, adult education, women's rights and women's voices. She was also a founding member of Canadian Research Institute for the Advancement of Women (CRIAW) and served as CRIAW's President from 1979 to 1980. Later in life, she helped start, and performed with, the Nova Scotia Raging Grannies. In addition to 10 honorary degrees, she received the Order of Canada, the Governor General's Award in Commemoration of the Persons Case and the Pearson Medal of Peace. In 2009, Muriel was awarded a posthumous Order of Nova Scotia. Muriel Duckworth passed away in 2009, at the age of 100. It is now up to us to continue her activism. Learn more about Muriel Duckworth here.
2. The Shirley Farlinger Award for Peace Writings
Shirley Farlinger's peace activism, like her life, was filled with passion and commitment to the abolition of war. With VOW, she travelled often to the UN, mostly to its headquarters in New York but also to Vienna and Geneva. She took these opportunities to push for various disarmament issues and wrote about her efforts. Amid this, Shirley took time out to learn more and enrolled in the fledgling European Peace University based in a beautiful castle in a colourful town not far from Vienna in 1993. She wrote witty plays on the long-overdue victories of Canadian women being rightfully declared persons and UN Security Council Resolution 1325 on Women, Peace and Security. Central to these many gifts was her belief in the power of the pen honed by degrees in both English and Journalism. Upon her death in 2012, three bulging binders holding copies of her urgent letters to newspaper editors confirm her long-held, genuine and powerful drive to write for positive, peaceful change.
3. The Anne Goodman Award for the Promotion of a Culture of Peace/Peace Education
Dr. Anne Goodman (1950 – 2013) Anne was a long-time member and volunteer with Canadian Voice of Women for Peace. Anne was president and co-founder of InterChange: International Institute for Community-Based Peacebuilding, which collaborates on educational and research projects with like-minded activists around the world. She taught at the University of Toronto's Ontario Institute for Studies in Education (OISE) in the department of adult education and community development; she directed a graduate certificate in community healing and peacebuilding; and she was co-director of the university's Transformative Learning Centre. She also taught in the Centre for Peace Studies at McMaster University. Anne developed a 'Culture of Peace' workshop and facilitated many presentations for VOW members. Anne co-founded Voice of Somali Women for Peace, Reconciliation and Political Rights, developed workshops called Peace Begins at Home for a Somali mothers' group in Toronto and was a board member with Peacebuilders International. Anne's commitment to peacebuilding took her to Rwanda, Uganda, Kenya, Slovakia, Israel, Croatia and other countries. Anne's view was that transformative learning involves experiencing a deep, structural shift in thought, feelings and actions – and building strong relationships with each other. Early in her career, she worked as a research assistant for physicist and activist Dr. Ursula Franklin. Anne believed that by working together we can create that culture of peace and expand peace education.
4. The Kim Phuc Award for Youth Peace Leadership (age ~18-30)
Kim Phuc, honorary VOW board member and UNESCO Goodwill Ambassador for the Culture of Peace, is the inspiring nine-year-old in the Pulitzer Prize-winning photograph taken during the Vietnam War on June 8, 1972. The photo taken by AP's Nick Ut shows her running naked on a road after being severely burned on her back by a South Vietnamese attack. Phuc travelled from Vietnam to Cuba and finally settled in Canada in 1992. She established the first Kim Phuc Foundation in the US, with the aim of providing medical and psychological assistance to child victims of war. Later other foundations were set up, with the same name, under an umbrella organization, Kim Phuc Foundation International, to help heal the wounds suffered by innocent children and restore hope and happiness to their lives. Compassion and love helped Phuc to heal and she learned and teaches how to be "strong in the face of pain." Toronto resident and Canadian citizen, Phuc speaks around the world inspiring people to advocate and work for peace. She is a recipient of the Queen's Gold Jubilee Medal and 2004 Order of Ontario. Inspired by Phuc's extraordinary work, the Canadian Voice of Women for Peace is pleased to award a youth peace activist for her peace-building efforts.
5. The Ursula Franklin Award of Excellence
This award is intended to honour, annually, IF a suitable awardee is identified, a woman who has made an exceptional and longstanding contribution to forward the values of VOW. Ursula, an early member of VOW, was an outspoken feminist, an academic and a prominent, much honoured public intellectual who tirelessly promoted a world of justice and peace for all. Several books of her writings and speeches are available. Ursula died in 2010.
Her obituary tells us more "Ursula was born in Germany and came to Canada in 1949 as a post-doctoral fellow at the University of Toronto with a PhD in experimental physics. She enjoyed a marriage of over 60 years and an outstanding life as an academic. She joined the faculty of University of Toronto Department of Engineering, Metallurgy and Materials Science in 1967 and became a full professor in 1973. After her retirement at age 65, she found a U of T home at Massey College. She was a scientist, a feminist, a Quaker, a pacifist, an activist, and a treasured mentor to many. She was active in many areas and forums, among them Voice of Women, Science Council of Canada (the Conserver Society Report of 1977), NSERC and Ideas (the Massey Lectures in 1989). She was involved in an early class action case: it resulted in 2002 with about 60 retired women faculty receiving pay equity settlements acknowledging long-standing gender barriers and pay discrimination. She was a Companion of the Order of Canada, Fellow of the Royal Society and awarded the Order of Ontario. She received the Pearson Peace Medal, the City of Toronto award of merit, and numerous honorary degrees from Canadian universities along with various other awards and recognitions. Learn more about Ursula Franklin here
The first recipient of this award was Setsuko Thurlow, life-long nuclear weapons abolitionist and Hibakusha – a survivor of the 1945 atomic bombing of Japan.
Julia Ward Howe's full call to action:
Arise, all women who have hearts, whether your baptism be that of water or of tears! Say firmly: "We will not have great questions decided by irrelevant agencies, our husbands shall not come to us, reeking with carnage, for caresses and applause.

"Our sons shall not be taken from us to unlearn all that we have been able to teach them of charity, mercy and patience. We women of one country will be too tender of those of another country to allow our sons to be trained to injure theirs."

From the bosom of the devastated earth a voice goes up with our own. It says, "Disarm, disarm! The sword is not the balance of justice." Blood does not wipe out dishonor nor violence indicate possession.

As men have often forsaken the plow and the anvil at the summons of war, let women now leave all that may be left of home for a great and earnest day of counsel. Let them meet first, as women, to bewail and commemorate the dead. Let them then solemnly take counsel with each other as to the means whereby the great human family can live in peace, each learning after his own time, the sacred impress, not of Caesar, but of God.

In the name of womanhood and of humanity, I earnestly ask that a general congress of women without limit of nationality may be appointed and held at some place deemed most convenient and at the earliest period consistent with its objects, to promote the alliance of the different nationalities, the amicable settlement of international questions, the great and general interests of peace.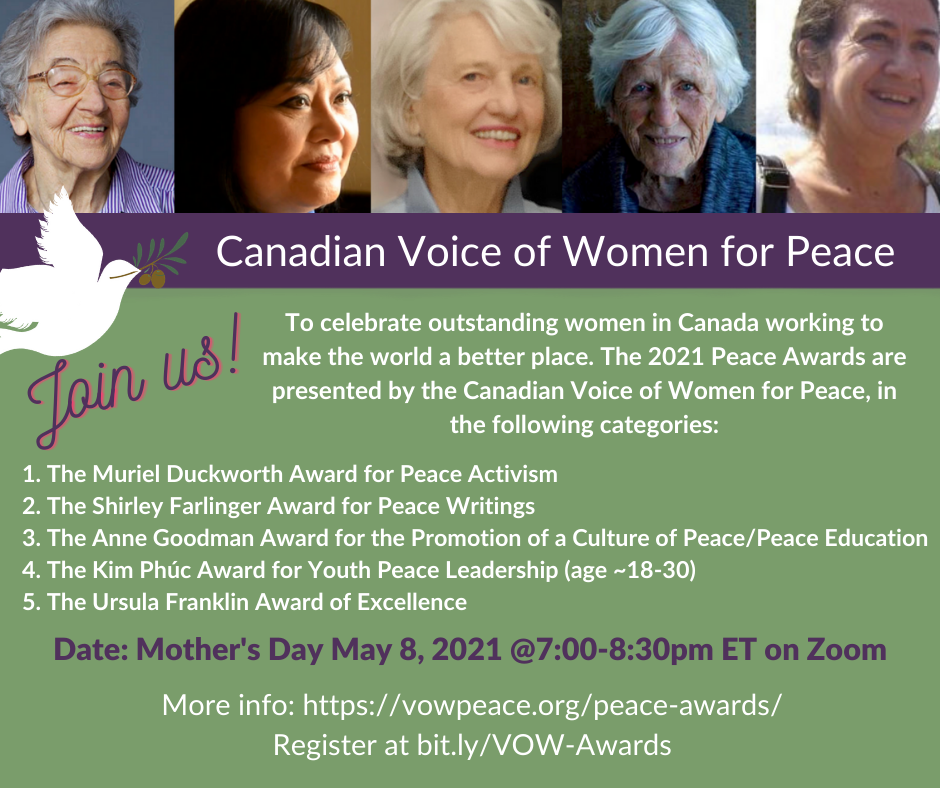 Topics: